Tirupathi Tour Package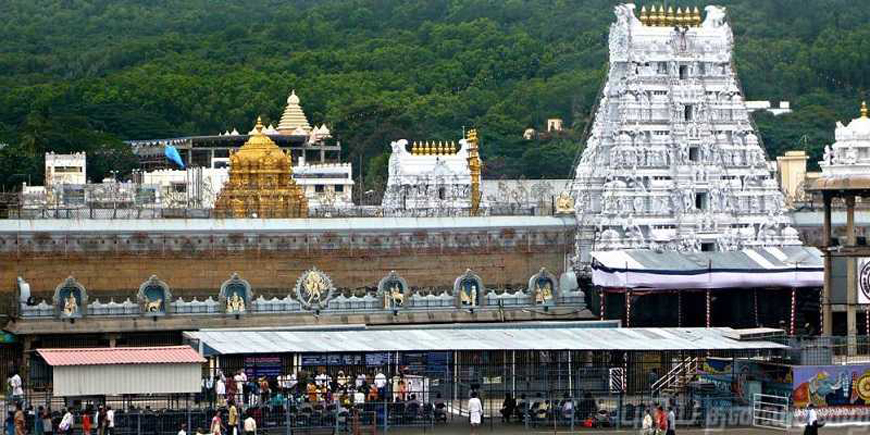 TIRUPATI is a city in Chittoor district of the Indian state of Andhra Pradesh is the richest temple in the world in terms of donations received and wealth The city is home to most famous and important Vaishnavite shrine of  TIRUMALA VENKATESWARA TEMPLE  and other historic temples and is referred to as the "Spiritual Capital of Andhra Pradesh". It is one of the seven Swayam vyaktha kshetras dedicated to Vishnu and also one of the most important of the 108 Divyadesam.The Temple is dedicated to Lord Sri Venkateswara, an incarnation of Vishnu, who is believed to have appeared here to save mankind from trials and troubles of Kali Yuga. Hence the place has also got the name Kaliyuga  Vaikuntham  and the Lord here is referred to as Kaliyuga Prathyaksha Deivam.
No of temples covered: 03 Temples
Total distance covered: 161 Kms
Day 01
On your arrival at Chennai, our company representative will welcome and take you for breakfast. After breakfast, a short briefing will be made about the tour. We will drive you to Tiruchanoor, Tirupati to Darshan Padmavathi Thayar temple (MAHALAKSHMI).
Tiruchanoor – Padmavathi thayar.
We will Check-in to hotel at Tirupati and lunch will be provided.
Around evening we will drive to Srinivasamangapuram, Tirupati to Darshan Kalyana Venkateswara swamy temple.
Srinivasamangapuram – Sri Kalyana Venkataeswarar.
After the Darshan, we will and visit Govindarajaswamy temple for Darshan at Tirupati.
Overnight stay at Tirupatir after Dinner.
Day 02
No of temples covered: 03 Temples
Total distance covered: 44 Kms
After Breakfast we will forward to drive uphill to Tirumala and DARSHAN VENKATESWARA SWAMY TEMPLE. After Darshan, we will return drive to Tirupati for lunch at the hotel.
Tirumala – Sri Venkateswara
After Darshan, we will return drive to Tirupati for lunch at the hotel.
In the evening, we will Darshan Kapilaeswar swamy temple at Kapilatheertham, Tirupati and Radhey Krishna Temple at ISKCON Mandir.
Tirupati – Kapilatheertham
Tirupati – Iskcon Mandir
Overnight stay at the hotel at Tirupati after dinner.
Day 03
No of temples covered: 02 Temples
Total distance covered: 135 Kms
Check out hotel after breakfast and drive to Narayanavanam (Puttur) and Darshan Kalyana Venkateswara swamy temple.
Narayanavanam – Sri Kalyana Venkateswarar
After that, we will drive to Nagalapuram and Darshan Vedanarayanaswamy temple
Return back to Chennai and check-in at the hotel after Lunch. In the evening, we shall take you for shopping in Chennai. We shall return to the hotel and have dinner.
Day 04
No of temples covered: 00 Temples
Total distance covered: 00 Kms
After Breakfast we drive you to Darshan the famous Parthasarathy swamy temple at Thiruvallikeni and Kapaleeswarar swamy temple at Mylapore, Chennai.
Chennai – Parthasarathy Temple
Chennai – Kapalieswarar Temple
We will proceed to the hotel for lunch and then the day is free for shopping at Chennai.
After checking out from hotel in the evening, we shall drop you at the international airport and bid farewell for your onward journey.
Cost Includes :
1. Airport Pickup and drop
2. Air-condition accommodation on Twin share basis
3. Vegetarian food for the entire trip (breakfast and Lunch for 4 days and Dinner for 3 days)
4. All transfer and temple visits by AC Vehicle
5. Vehicle permits, Toll, parking charges, driver allowance
6. Tour Manager Charges
7. One litre Water bottle (3 nos) per day for each person
Cost Excludes :
1. One litre Water bottle (3 nos) per day for each person
2. Tirumala Darshan Tickets
3. Auto charges
4. Special Darshan Tickets in temples, if required
5. Any expenses of personal nature like tips, laundry, telecom, internet, mini bar, room service, Tips and porter fees.
6. Any other meal/food not mentioned in the inclusion like cool drinks, Milkshakes, fruit salad, fruit juice, Ice cream.
7. Travel insurance and Medical expenses
8. Any other destination not mentioned in the itinerary.
9. Any monument, camera fees, entrance Fees
Travel Insurance
It is highly recommended that the Tour Participants acquire adequate insurance cover to secure their life, health and property as may be advised by your insurance agent to cover any eventualities, associated with your overseas travel including health, accidental injury, loss, liability and the like depending on your assessment of your risk potential. The Tour Participants are advised to discuss your insurance needs directly with your insurance agent before proceeding on the tour and at your own cost procure any additional cover as may be advised. Please note, Insurance is the subject matter of solicitation, please read the terms and conditions of the insurance document carefully before finalizing your desired insurance cover.
Dress Code
It is mandatory to wear the traditional dress as mentioned below. Otherwise the temple authorities will not permit you to enter the temple. The pilgrims shall wear Traditional Dress only.
Male: Dhoti, Shirt, Pant, Kurtha, Paijama.
FeMale: Saree, Half Saree, Chudidhar with Dupatta.
Do's in Temple:
Special Darshan Tickets in other temples, if required
Respect ancient customs and usages while at Tirumala
Respect religious sentiments among co-pilgrims
Deposit your offerings only in the Hundi.
Follow the procedures of the temple and wait for your turn for the Darshan of the Lord.
Don'ts in Temple:
Carrying much jewellery and cash.
Wearing footwear in and around the premises of the temple
Throwing away the prasadam and theertham given to you at the temple.
Eating non-vegetarian food, consumption of liquor and other intoxicants and Smoking while in Temple.
Wearing any head guards such as helmets, caps, turbans and hats inside the temple premises.
Committing any act of violence or harshness in the temple premises.
Spit or be a nuisance inside the temple premises.
Mobile phones and other electronic gadgets/equipments
Carrying of weapons & ammunition to Tirumala is prohibited and pilgrims in possession of licensed weapons ammunition should declare the same at Alipiri check point and submit all the concerned documents and failure to do so will invite legal action
Important Note:
NRI's and Foreigners can get privileged darshan in Tirumala by getting access to the Supadham entry. In order to get this facility, devotees should report to Supadham entry from 12 noon to 5 pm with relevant documents like valid visa and original passport within 30 days of your arrival to India. Once the documents are verified and the Darshan fee Rs 300 is paid, NRIs can access Darshan through Supadham entry. Please note, this facility cannot be booked online and has to be accessed only on arrival.
Booking Policy
Online Booking: You can purchase our services from our sales outlets at Bangalore or Chennai, or you can book your tour/services / payment online through our website. Our website provides the facility making online booking of tours and services. After confirmation in written from us via Email or by in writing.
Booking Amount
For the services contracted, a minimum deposit of 30% of the total cost is to be paid by you to Ravel Roads. The advance is required to hold the booking on confirmed basis.
Balance Payment
The full balance payment is to be paid 10 days prior to the date of start of services. Any booking made within 10 working days of the date of services would be considered as a late booking and for same the full and final payment is required to be made at the time of booking itself.
Note: Apart from above, in case of bookings for special train journeys, hotel or resort bookings during the peak season (Christ-mas, New Year) full payment is required to be made at the time of booking itself.
Payments: All payments are to be paid in behalf of Ravel Roads.
How to Pay:
Domestic payments
1. By Cash / Cheque / Demand Draft
2. By Electronic money transfer (RTGS & NEFT)
3. By Debit Card, Credit Card, UPI, net banking.
International payments
1. By Bank transfer to our bank (Bank Details)
2. By Online Payment Gateway through Razor Pay.
3. By Debit Card, Credit Card
In case of payment through credit card, the bank charges (3% extra) – would be levied over and above the total amount.
Note:
1. All payments should be free and clear of any withholding tax and deduction.
2. Bank charges, if any, for remittance (by remitting bank or by intermediary bank) would be strictly borne by payer.
---
Cancellation / No show / Early Departure Policy:
In case of cancellation of tour or travel services due to any reason, you are requested Please inform us in writing or by Email. Cancellation charges would be effective from the date we receive letter in writing and cancellation charges would be as follows:
Cancellation charges for any mode of transport ticket are applicable as per the rules of the concerned authority.
Air ticket issued on special fare are non-refundable and the guest shall bear cancellation charges.
Group Tours
1. If the reservation is cancelled 30 days prior to the date of arrival – 90% may be refunded (except the transaction charges).
2. If the reservation is cancelled 15 days prior to the date of arrival – 50% may be refunded (except the transaction charges) .
3. If the reservation is cancelled 07 days prior to the date of arrival – 25% may be refunded (except the transaction charges).
If the cancellation is any later than the above stated period or in case of 'No Show'- No Refund.
No refund or any changes will be accepted at last minute for tour starting or after starting or middle of the tour.
Individual Tours (FIT Tours)
Cancellation policy of Individual tours is subject to changes. It depends upon the cancellation policy of the respective hotels and other service operators your tour is associated with. Different hotels and service operators have different cancellation policies which we are required to abide by. In the unfortunate event of cancellation of trip by guests, we would charge 10% of total booking amount as processing charges +the charges levied by the corresponding service providers.
Please note:
The itinerary may have changed. The products and services displayed may have changed. The photos of meals/sightseeing are for reference and may differ from the actual meals/sights. Distance between places and temperatures are approximate and can change depending on travel, road conditions and climatic changes.
Itinerary may change at any time
we reserve the right to alter, amend, change or modify the tour package and itineraries before or during the tour. We will make reasonable efforts to notify you promptly of such changes as and when they are made.
Such changes may be necessitated due to factors beyond our control such as Force Majeure events, strikes, fairs, festivals, sport events, weather conditions, traffic problems, overbooking of hotels/flights, cancellation / re-routing of flights or railway, closure of / restricted entry at a place of sightseeing.
Generally, we try to avoid dates when big Fairs, Exhibitions and other events are held in certain cities as hotels are fully booked several years ahead.
If you have to travel on such dates, you may have to stay in alternate hotels or hotels in other cities.
We will make reasonable efforts to keep the overall package of services unchanged. However,
We shall not be liable to refund any amount or pay any compensation on account of any change in itinerary.