KAILASH MANASAROVARTOUR 2023 VIA LHASA - 15 DAYS / 14 NIGHTS REGISTER NOW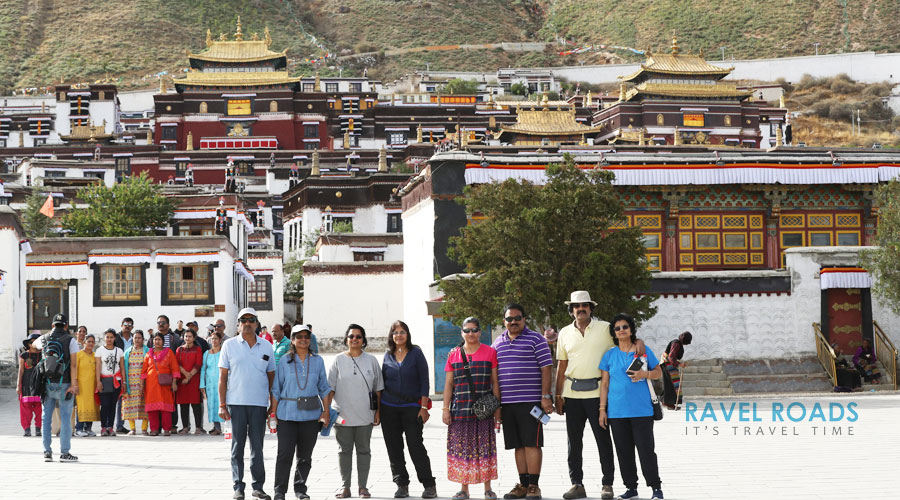 Kailash Manasarovar Yatra via Lhasa covers major cultural sites of Lhasa, Gyantse, Shigatse and pilgrimage site Kailash Manasarovar. The major tour highlights of this tour around Lhasa are Potala Palace, Sera Monastery, Norbulingka Palace, Jokhang Temple, Tibetan traditional Barkhor Squire, Tashilampo Monastery in Shigatse and most sacred Lake Yamdok on the way driving in Gyantse to Shigatse. Our further drive continues various cultural richest Tibetan towns to reach Kailash region.
Our trip starts with a spectacular Mountain View flight from Kathmandu to Lhasa and overnight for 2 days in the beautiful city of Lhasa. Guided tour and acclimatization in Lhasa for 2 days will be more helpful for your entire trip to adjust your body in high altitude. After a cultural trip in central Tibet- Lhasa, we further drive to Lake Manasarovar and Mount Kailash which lies in Ngari region of Tibet. We explore holy Lake Manasarovar and make three days Kailash Parvat Kora/ Parikrama with walking or by a horse. The whole tour of Lhasa Kailash Tour is driving on the well-paved road except three days of Kailash kora.
Day 01 :- Arrive in Kathmandu (1300 m). Overnight at Hotel
Welcome at the Tribhuvan International Airport Kathmandu. Our representative will greet you and escort you to the hotel for check-in and stay overnight.
Day 02:- Kathmandu valley sightseeing and trip preparation. Overnight at Hotel
After breakfast we will begin our sightseeing early with a visit to Pashupatinath Temple where you can participate in morning aarti. After this we will visit Jal Narayan Temple (Also known as Sleeping Vishnu Temple or Neelkanth Buddha Temple) and Guhyeshwari Mata Temple (one of the Shaktipeetha). Later return to your hotel. You may spend rest of the time at leisure preparing for the next day flight to Lhasa or explore the Thamel market of Kathmandu which is very popular place among travelers for buying useful trekking and adventure gears etc. In the evening, we will have short trip briefing session followed by introduction of all group members. Overnight stay and dinner will be at the hotel.
Meals included : Veg Breakfast, Lunch and Dinner
Max. Elevation : 1400 m
Distance covered : 40 kms within the city / 04 hours
Day 03 : Fly Kathmandu – Lhasa Transfer to the airport for your flight to Lhasa. Overnight at Hotel
After breakfast in the hotel you will be transferred to Kathmandu airport to board flight to Lhasa, Tibet. On reaching Gonggar International airport, Lhasa, our local representative will meet you and transfer you to your hotel. The drive from Lhasa airport to hotel will take around 1½ hours or more. Spend this day at leisure while acclimatizing your body to the high altitude of Tibet.
Meals included : Veg Breakfast, Lunch and Dinner
Max. Elevation : 3661 m
Distance covered : 600 kms flight distance + 60 kms drive airport to hotel
Day 04 : Sightseeing in Lhasa. Overnight at Hotel
After breakfast enjoy city sightseeing tour of Lhasa. Today, you will explore the popular Jokhang Temple, Barkhor Street and drive through the beautiful Potala Palace. The Barkhor Street is situated in the old side of Lhasa near Jokhang Temple and is a must see place while you are in Lhasa. Later visit the beautiful Potala Palace from outside. Witnessed as Dalai Lama's winter palace Potala Palace is 400 metres building having some sloping stone walls. After sightseeing return back to your hotel for night stay.
Meals included : Veg Breakfast, Lunch and Dinner
Max. Elevation : 3661 m
Distance covered : 40 kms sightseeing
Potala palace entry fee extra - 400 Yuan Per person
Day 05 : Drive Lhasa - Shigatse (3843m , 273km). Overnight at Hotel
After breakfast assemble in the lobby of the hotel and get ready for the scenic drive to Shigatse. The traditional capital of Tsang province, Shigatse (officially known as Xigaze) is the second largest city of Tibet after Lhasa in TAR (Tibet Autonomous Region). On reaching Shigatse, check into the hotel and visit the Tashi Lhunpo Monastery built eminently by the first Dalai Lama in 1447. Relax and stay overnight at your hotel
Meals included : Veg Breakfast, Lunch and Dinner
Max. Elevation : 3843 m
Distance covered : 273 kms
Day 06 : Drive Shi gatse - Saga- /4450m 447 Km. Overnight at Hotel
Wake up early today and then have your breakfast in the hotel restaurant. Later we will leave Shigatse for a scenic drive through gorgeous Tibetan plains to reach Saga County. The meaning of Saga is 'The Lovely Place' or 'Happy Land' Arrive at Saga and stay overnight to in Hotel Saga or equivalent. The Dargye Tsanpo River pass through here and join Brahmaputra at Saga Chakzam. Saga is a very important and must stop place on this route. It is located in the intersection of three important roads of which are Lhatse from the East, Gyirong from the South and Kailash Mount from the West.
Meals included : Veg Breakfast, Lunch and Dinner
Max. Elevation : 4640 m
Separation secured : 447 kms.
Day 07 : Drive to Manasarovar via Paryang (4590m) 447km, Overnight at Guest House
We have very important day today as we are heading to the holiest and one of the highest spiritual lakes, Lake Manasarovar. As per time schedule, our day begins with breakfast at 07.30 am. On the way before Mayumla Pass (4900 m), we take break for permit formalities and for lunch then continue the journey crossing Mayumla pass and Prayang county. Mostly the road drive is comfortable and scenic today. There will be short halts for permit formalities, before heading to our guesthouse near Lake Manasarovar. Here one can use time in praying and exploring the beauty of Mt. Kailash which is seen easily from here if weather is clear. After completing the immigration formalities, we will drive further to our guesthouse near Hor Que (We have to change our vehicle here and travel in local buses operated by the Tibetan authority near Mansarovar and Kailash region). During your drive to Mount Kailash through Lake Manasarovar, we will complete Lake Manasarovar parikrama approx. 70% and rest will be complete when we return from Kailash Trek. You will have very significant moment in Lake Manasarovar with almighty bless and even graceful evening with the breathtaking view of holiest Lake Manasarovar and Mt. Kailash. Besides this all, you can find some isolated place near the holy lake to do meditation. Night stay and food will be organized in the guesthouse in dormitory style.
Meals included : Veg Breakfast, Lunch and Dinner
Max. Elevation : 4590 m
Distance covered : 447 kms
Night view at lake Manasarovar If you wish to visit the lake in the night, please inform your guide prior and if possible, go there in small group with a local guide or Sherpa for any help. Cover yourself properly with warm clothes as the weather is going to be very cold in the night. Also carry a whistle and a torch while going out in the night.
Day 08 : Exploration of Lake Manasarovar and drive to Darchen (4575m) 114km. Overnight at Hotel.
Today morning, we wake up easily and we will locate a decent spot for sacred shower in Lake Manasarovar for every one of our explorers. We will provide shower tent for women close by the bank of lake for changing the garments. Additionally you can offer puja/havan/customs at achievable spot close to the lake as indicated by your decision, all alone. Our team part will help you if any assistance require. We make short drive to Darchen (the base of Mt. Kailash). While in transit to Darchen, we can likewise observe the landscape of Raksha's Tal (Demon's Lake) in the opposite side of Lake Manasarovar. Continue with drive to Darchen where we check in to the hotel and getting ready for the following day plan.
Darchen is the base camp of Mt. Kailash from where the Kora (Parikrama) around Kailash starts. In the event that time available you can walk around little market of Darchen. Tim allowed to unwind and get ready for the trek on following day.
Meals included : Veg Breakfast, Lunch and Dinner
Max. Elevation : 4575m
Distance covered : 114 kms
Day 09 : Kailash Parikrama. Drive to Valley of the God and trek to Derapuk/5210m. Overnight at Guest house
Today, we get up ahead of schedule and have a light breakfast, we head to Tarboche to begin our trek to Derapuk Monastery. All travelers have the chance to go through Yam Dwar before the trek (Kora) begins.
Trekking by walking - From here to Dirapuk the trek is around 12 kms and is for the most part level with some slight ups and down. This trek will take us 04 to 06 hours span. It is best to walk gradually.
Horse - Those who wish to hire horse / Pony and Helper may do as such at Tarboche legitimately with the assistance of the Tibetan guide, on direct Payment . They will be given name coupon to pick the pony and Helper and the same will go with you during the trek.
At Dirapuk, the climate will be cold, Dirapuk is truly outstanding and nearest point from where we can see North Face of Mt. Kailash standing high before us. You will have incredible chance to take a few important pictures and selfies from here. The night will be excessively cold so we will have fast and light supper (khichdi, soup and so on) and rest in our bed
Meals included : Veg Breakfast, Packed Lunch/snacks, Light Dinner
Max Elevation : 5210 m
Distance covered : 12 kms trekking
Day 10 : Trek to Zuthulpuk by crossing Dolma La pass (5630m). Overnight at Guest house
Get up early morning before day break and view the first sunlight on Mt. Kailash offering amazing view of the 'Golden Kailash'., have a fast light breakfast and prepare to start the trek towards Zuthulpuk. Carry packed lunch and hot drinkable water from kitchen before beginning to trek.
This day is viewed as the hardest day of the whole outing. We trek towards Shiva Tsal (5330m) you will begin climbing to the most noteworthy purpose of the trek 'Dolma La Pass' (5630m). Here around 3 kms trek is down hill and get a view of Gauri Kund (Parvati Kund). Continue to trek down hill and walk towards Zuthulpuk
Stay will be at Zuthulpuk Gompa in Guest house. We will have dinner and go to our comfortable bed to rest.
Meals included : Veg Breakfast, Packed Lunch/snacks, Light Dinner
Max Elevation : 5630 m
Distance covered : 22 kms trekking
Day 11 : Finish Kailash Parikrama and drive back to Saga. Overnight at Hotel.
This is our last day on trek and we need to make the 6 kms trek (around 2-3 hours) down towards Darchen. We wake and after breakfast start trekking to Darchen town. Our transport will pick you up and drive to Hotel at Darchen where our other group members are waiting. Have lunch and afterward we proceed with our drive to Saga which is around 450 kms away. We drive to Saga , on arriving at Saga have free time and rest in the Hotel.
Meals included : Veg Breakfast, Lunch, Dinner
Max Elevation : 4640 m
Distance covered : 06 kms trek + 492 kms drive
Day 12 : Drive back to Shigatse. Overnight at Hotel
Easy day onward today. We take it easy driving back to Shigatse town which is second biggest town of Tibet. You can make late afternoon walking tour.
Day 13 : Drive to Lhasa. Overnight at Hotel
Continue drive to Lhasa city and transfer to Hotel. Prepare your bag for flight back to Kathmandu tomorrow.
Day 14 : Fly back to Kathmandu and transfer to Hotel
Early in the morning drive to Gonggar Airport from Lhasa. It is 90 km and takes 2 hours. Reach Kathmandu and transfer to Hotel. Rest
Day 15 : Final Departure to Home or further program in Nepal
We drops you to the International airport for your final departure. Or continue for your further trip in Nepal.
| Package | July | August |
| --- | --- | --- |
| KMY Lhasa Package (15 Days/ 14 Nights) | 17th July | 5th Aug |
KAILASH MANASAREOVAR VIA LHASA COSTING FOR 2023
| LHASA TOUR 15 DAYS | AMOUNT IN RS |
| --- | --- |
| Indian passport holders | Rs. 3,30,000 |
| NRI Passport Holders | USD 4000 |
Cost includes:
1. All arrival & departure arrangement
2. Twin Sharing accommodation at Star category Hotel in Kathmandu
3. Twin sharing accommodation in Lhasa, Shigatse, Lhatse
4. Veg foods (Breakfast, Lunch and Dinner) in entire trip
5. Group Sharing Guest House in Kailash Region from Saga
6. One half-day sightseeing tour of Kathmandu valley
7. Flight Ticket of Kathmandu - Lhasa - Kathmadnu
8. All Entrance fees
9. Transportation in Kathmandu by private vehicle
10. All transportations by Van / Bus in Tibet/ Kailash
11. Applicable entrance fees to visit Monasteries
12. Normal Tibet Entry Visa fee
13. Special Kailash Parikrama Permit
14. One down Jacket to each pilgrim on returnable basis plus Certificate on successful completion of Holy Yatra which retains nostalgic memories even years after undertaking this once-in-a-lifetime pilgrimage tour.
15. Oxygen cylinder
16. Emergency Rescue Management
17. Yak to Carry your goods during Kailash Parikrama
18. Cost includes all government taxes
Cost does not include
1. Emergency evacuations/Rescue expenses, if required.
2. Expenses of personal nature
3. personal horse and Helper during Kailash round/ parikrama
4. Travel & Medical Insurance Permissions and other official formalities
Transportation:
1. All ground transportation by private vehicle
2. Airport Pick up and drop off service
Accommodation
1. 3 * Single occupancy accommodation ADDITIONAL INR 40,000.00 PER PERSON | USD 500.00 PER PERSON for an upgrade to 5* standard Accommodation where available
2. Twin Sharing Basis in Kathmandu & Tibet, Group Sharing in Kailash Region
Support and Crew
1. Nepali Guide and Tibetan Guide
2. Nepali Crew Members in Kailash Region
Meals
1. Breakfast, Lunch, and Dinner (VEG)
2. Drinking Water (2 bottles per day)
Sightseeing
1. KATHMANDU: Pashupatinath Temple, Gujeshwari Shaktipeeth, Jalnarayan (Sleeping Vishnu) Temple
2. TIBET: Lake Manasarovar, Holy Mount Kailash, Milarepa Cave, Drolma La Pass, Yamadwar, Gauri Kunda
Equipment
1. Medical Kits
2. First Aid
3. Oximeter daily check (Pulse and Oxygen Level)
4. Enough Oxygen Cylinders
5. Other Necessary Equipment
6. Stick for Parikrama
Clothing
1. Down Jacket on a returnable basis
2. Duffle Bag
3. Day Backpack
4. Hat
Exclusions
1. Personal Expenses
2. Pony – Horseman – Helper
3. International Airfare
4. Insurance
5. Emergency Circumstances
6. Extra Nights
Requirements/ Documents
1. Passport with a validity of minimum 6 months from the date of travel.
2. Scanned color Copy of Passport to be submitted at the time of booking.
3. Original Indian Passport to be sent to Delhi Office at least 15 days in advance.
Booking Policy
1. Completed application to be signed and submitted.
2. All the required documents are to be submitted on time.
3. Clients must agree and abide by the Company Policy.
4. Insurance is recommended – not compulsory.
5. Clients must carry Proof of ID while traveling.
6. The itinerary can be changed without notice due to unavoidable circumstances beyond of Ravel Roads control, such as natural calamities, political unrest, itinerary changes by Chinese Authorities and so on.
Cancellation Terms
Ravel Roads requires a written application for cancellations, the following policy shall apply thereafter:
If canceled 30 Days prior to departure date from client's side, all previously paid amount(s) will be forfeited.
If canceled 31 – 90 Days prior to departure date, 75% of the deposit will be refunded except for the non – refundable deposit.
If canceled more than 90 days prior to departure date, all previously paid amount(s) will be refunded, except GST.
5% GST
Payment Mode & Options
1. 30% of the amount to be deposited at the time of booking confirmation.
2. 70% of the amount to be transferred to Ravel Roads 30 days prior to yatra date.
Risks & Liability:
Our Crew will make its best effort to make the journey successful and memorable. The Kailash Yatra is conducted under Chinese Authorities and Foreign Exchange Center Tibetan Autonomous Region (FEC TAR), hence, Ravel Roads will not be liable to any last minute changes, any unforeseen circumstances, and emergency circumstances and evacuations, flight delays, extra nights to be stayed, natural disasters, altitude sickness and rescue. Any extra costs incurred shall be borne by the clients themselves.
RAVEL ROADS BANK ACCOUNT DETAILS
CANARA BANK
Account Name : Ravel Roads
Account No: 3246201000373
Bank Name : Canara Bank
Branch : Ganga Nagar
IFSC Code : CNRB0010458
SWIFT Code : CNRBINBBBFD
PUNJAB NATIONAL BANK
Account Name : Ravel Roads
Account No: 1567002100016889
IFSC Code :- PUNB0156700
Bank Name : Punjab National Bank
Branch : Anand Nagar Branch
SWIFT Code : PUNBINBBPHM
How to Pay:
Domestic payments
1. By Cash / Cheque / Demand Draft
2. By Electronic money transfer (RTGS & NEFT)
3. By Debit Card, Credit Card, UPI, net banking.
International payments
1. By Bank transfer to our bank (Bank Details)
2. By Online Payment Gateway through Razor Pay.
3. By Debit Card, Credit Card
In case of payment through credit card, the bank charges (3% extra) – would be levied over and above the total amount.
Note:
1. All payments should be free and clear of any withholding tax and deduction.
2. Bank charges, if any, for remittance (by remitting bank or by intermediary bank) would be strictly borne by payer.
Travel Insurance
It is highly recommended that the Tour Participants acquire adequate insurance cover to secure their life, health and property as may be advised by your insurance agent to cover any eventualities, associated with your overseas travel including health, accidental injury, loss, liability and the like depending on your assessment of your risk potential. The Tour Participants are advised to discuss your insurance needs directly with your insurance agent before proceeding on the tour and at your own cost procure any additional cover as may be advised. Please note, Insurance is the subject matter of solicitation, please read the terms and conditions of the insurance document carefully before finalizing your desired insurance cover.
Travel Insurance
We reserve the right to alter, amend, change or modify the tour package and itineraries before or during the tour. We will make reasonable efforts to notify you promptly of such changes as and when they are made.
Cancellation / No show / Early Departure Policy:
In case of cancellation of tour or travel services due to any reason, you are requested Please inform us in writing or by Email. Cancellation charges would be effective from the date we receive letter in writing and cancellation charges would be as follows:
All bookings are strictly subject to 'Booking Conditions' enclosed herewith and shared with you during the course of our correspondence. While filling and submitting signed copy of this document, you confirm your sole acceptance to our business terms. Kindly note that if you do not agree to our policies and terms of services, you should not proceed with your bookings
SPECIAL NOTES :
Holy Mount Kailash has remained closed since 2020 after the Covid Pandemic worldwide. The Tibet side cost is based on 2019 rates of The Foreign Exchange Rate.
Similarly the final cost on Nepal side will depend upon the Chinese Visa fees , new permit cost , domestic air fares and other factors. The cost are tentative and may which may subject to revise
Important Note
Age :
1. Participants must be between 18 and 70 years of age.
2. Those below the age of 18 must either be accompanied by a parent/guardian or a consent form need to be signed by them.
Medical:
1. Be physically and mentally fit.
2. Please note that this trek is not advised for pregnant women and those suffering from chronic health problems, like epilepsy, heart ailments, uncontrolled BP, diabetes, cancer, asthma, psychological problems, physical disabilities and obesity.
Passport:
1. A valid passport is needed with a minimum validity of 180 days from the last date of the sojourn.
2. Please note that diplomatic passports are not allowed.
3. PIO/OCI or any other ID cards are not accepted in Tibet.
Visa Process:
1. Indian passport holders do not require a visa for nepal.
2. The Tibet permit and visa for everyone will be organized by us. To facilitate this, your original passport is required at New Delhi, well in advance prior to the departure date. The actual date and details will be confirmed based on the group you choose to travel with us.
Visa Process for NRI:
Indian nationals do not require a visa for Nepal
Foreign nationals will require a 15 days multiple entry visa for Nepal which can be availed on arrival at Kathmandu airport, Nepal. A visa fee of $25 is payable along with two passport size photos. Visa for Tibet will be organized by us. To facilitate this, original passport of Indian Nationals is required well in advance prior to the departure date. Details will be sent upon registration. For Non-Indian Nationals, Tibet visa will be organized in Kathmandu 4 days prior to the departure. Request the NRI to be in Kathmandu for the visa process.
Accommodation
Accommodation in Kailash Manasarovar Overland Tour:- Accommodation of Kathmandu is on 3/4 star category hotel on twin sharing and accommodation in Kailash region is on group sharing local Guesthouses/ Mud houses. Please do not expect more facilitated accommodation in Kailash. Toilets are out of the room and it is common. More place like Manasarovar, Derapuk and in Juthulpuk is an open toilet. Nowadays people can choose deluxe guest houses in some of the route in Kailash Mansarovar. Deluxe guest houses have built-in Nyalam, Saga and In Darchen.
Accommodation of Central Tibet, Shigatse, Lhatse, Gyantse and in Lhasa is your choice to choose either Basic, Standard or Deluxe hotels. In Lhasa deluxe hotels or 5-star category are available.
Accommodation in Everest base Camp Route and the Guge Kingdom are all basic guest houses and Hotels.
Extra Expenses
We have mentioned all the extra expenses of your trip on every trip details. Please be sure with it before your trip confirmation with us.
Normally
* Personal Helper and Horse * Emergency rescue in case of need *
Booking Policy
1. Application should be submitted at least 45 days before the provisional date of departure.
2. Minimum of 6 months valid Passport scan copy by mail or passport copy by courier should summit when the booking is made
3. Upon the confirmation (INR 30,000) is required which is nonrefundable.
4. In the case of Lhasa Kailash tour deposit amount is INR 50,000 for Indians or NRI USD 1000 or equvalent currency.
5. Our company trip booking form with your signature as per our term and condition
6. All the clients need to carry ID Proof, (Voter ID Proof) OR passport original while traveling by air.
7. The itinerary can be changed without notice due to unavoidable circumstance beyond our control such as political unrest, Natural calamities, changes in the itinerary by the Chinese authorities, etc.
Cancellation Policy
Indians
INR 30000/- Advance Non-Refundable amount to be paid at the time of Booking.
INR 50000/- If Tour selected Via Lhasa Advance Non-Refundable amount to be paid at the time of Booking.
NRI 1000 USD or Equivalent Advance Non-Refundable amount to be paid at the time of Booking.
Full balance payments to be made at least 45 days prior to start of the Tour, failing which your tour booking shall be considered as cancelled and all advance payments will be forfeited.
Cancellation Policy:
In any circumstances, if any customers cannot participate for the tour, the cancellation charge will be as follows:
1. 30 Days Before Tour Date 50 % of Tour Cost
2. 20 Days Before Tour Date 75% of Tour Cost
3. 15 Days Before Tour Date 100% of Tour Cost
ADVANCE AMOUNT WILL NOT BE REFUNDABLE
All disputes pertaining to the tour and any claim arising there under shall be subject to the Court of competent jurisdiction at Bangalore only.
Itinerary / Tour Cost / Date / Terms And Conditions / Cancellation Policy Are Subject To Change
Equipment List
Down Jacket
Ravel Roads can provide warm jacket without paying for your trip which is returnable after the trip.
Doffel bag and hand carry bag
Ravel Roads provide you duffel bag to put your goods and hand carry bag too. You can leave your suitcase or any of your bag in kathmandu hotel carried from your home.
Comfirtable warm walking shoes, Extra one pair
Water bottle at least for 2 liter including Thermal for keeping water hot You have to drink at least 3 litter water for a day and your team will provide you drinking water at every meal time. Hot water will be provided morning and evening only. so you have to have your thermal to keep hot water during day time.
Rain wear (Umbrella or Raincoat)
Woollen/thermal long underwear
3 pairs of thick and tights warm socks
warm light gloves
Wind and water prooft trouser and Jacket
Up and down warm thormal