Burma - Yangon – Bago - Naypyitaw Tour Package Register Now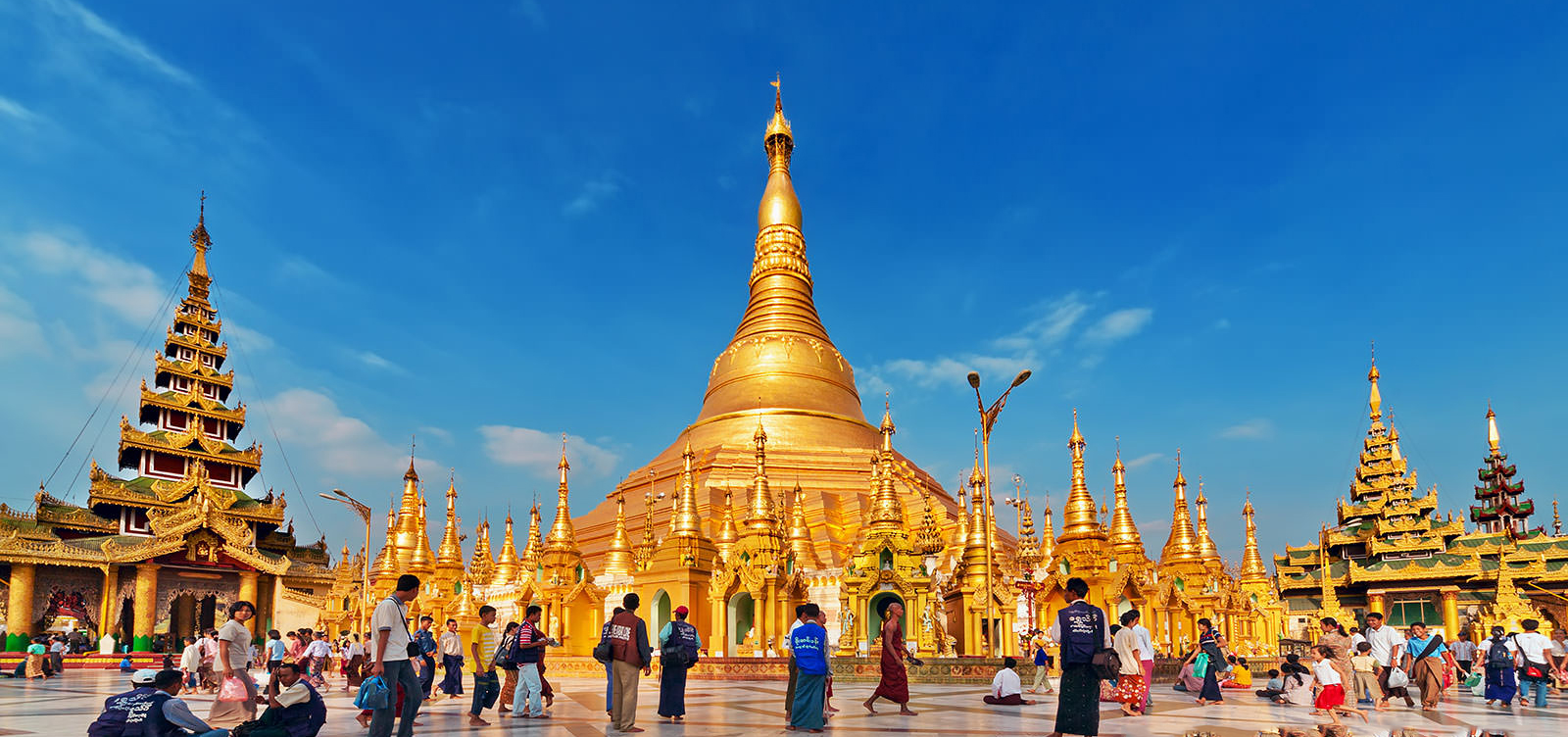 Day 01 : Arrive Yangon
On arrival you will be welcomed by our guide and transferred to your hotel for check-in. Yangon is the most industrialized and the most bustling city of Myanmar. In the evening visit to the most magnificent and spectacular religious edifice, Shwedagon Pagoda before the sun set and enjoy the beauty stupa while it changes the shining of gold in different tones according to the radiant of the setting sun.
Day 02 : Yangon – Bago sightseeing
After breakfast, visit to Bago, 80 km about 2 hour drive from Yangon. Also known as Pegu, was the capital of the Mon Kingdom in the 15th century and is a town steeped in legend Sightseeing includes Kyakhatwine Monastery - one may observe over 1000 student monks having lunch under the way of Buddha's guidance. Continue visit to over a thousand years old, Shwemawdaw Pagoda. Proceed to Shwe Tha Lyaung Pagoda, reclining Buddha, which is among one of the country's most impressive image statue, is 180 feet long and 52 feet high and Kanbawzathardi Palace of King Bayinnaung. On the way back to Yangon sightseeing at Allied War Memorial Cemetery which is a cemetery for Allied soldiers from the British Commonwealth who died in battle in Burma during the Second World War. Dinner at local restaurant. Overnight in Yangon.
Day 03 : Yangon - Naypyitaw
Early morning drive to Naypyitaw, 367 km(4-5 hours driving from Yangon). Naypyidaw has been the capital of Myanmar since November 6th, 2005. Naypyidaw (also called as Naypyidaw or Nay Pyi Taw) is generally translated as "royal capital it was used as a suffix to the names of royal capitals, such as Mandalay, which was called (Yadanabon Naypyidaw). The name "Naypyidaw" in Burmese means "Royal City of the Sun". Arrive in the afternoon and check-in hotel. After refreshment at hotel, visit National Land Mark Complex. This garden will provide you with a glimpse of all the structures we take pride in Myanmar. Evening visit Water Fountain Garden. Dinner at Local Restaurant. Night at the Hotel.
Day 04 : Naypyitaw
Breakfast at hotel and visit Myoma Market-currently a commercial hub of Naypyidaw, Safari, and Zoological Garden-opened in 2008 with some 420 animals and a climate-controlled penguin house. It is the largest zoo in Burma. It is said that most of the animals were relocated from Yangon zoo, at the same time as the government officials were making the same journey. Photo stop at Parliament (just taking photo from away). Then continue to Gems Museum. Evening visit Uttara Pasanti Pagoda -also called the "Peace Pagoda" is a prominent landmark in Naypyidaw. The pagoda, which houses a Buddha tooth relic from China, is a replica of Shwedagon Pagoda in Yangon and stands 100 metres high. It also has Maha Hsutaungpyae Buddha Image in Maha Pasadabhumi Gandhakuti Chamber, Four jade Buddha images in the pagoda's hollow cave, 33 metre high flagpole, Bo tree Garden with Maha Bo Tree and the images of the 28 Buddhas, Marlini Mangala Lake with the chamber of Shin Uppagutta and Pagoda museum. And White Elephants. Drive back to hotel. Accommodation at Hotel, Naypyidaw.
Day 05 : Naypyitaw - Yangon.
Enjoy breakfast at hotel. Leave from Naypyidaw and arrive Yangon in the afternoon. Check-in hotel. After refreshment at hotel, visit to BogyokeAung San Market (Scott's Market), where one can buy many items in one place. Bogyoke Market was built in British colonial times and has a colonial shape. At the market you will find a whole variety of interesting Burmese souvenirs, from lacquer ware to gems & jewelry - bargain at the stores to fully experience the Burmese market atmosphere! Visit the over 100 year old beautiful Rangoon Synagogue. In there you will have the opportunity to meet with Trustee of the Synagogue to learn the Jewish Life in the Pagoda Land. Then proceed to visit Yangon Secretariat also called Ministers' Building was the home and administrative seat of British Burma. It was also the theater of tragic event, where General Aung San and Six cabinet ministers were assassinated on 19 July 1947. Since then, this significant building has always been closed, except for two days a year on Martyr's Day; the commemoration of the heroes killed. Now, this iconic building is finally reopening for restoration to bring back its former glory while preserving Yangon's architectural heritage. The renovation is expected to be finished in the year 2021. Dinner at local restaurant. Night at hotel.
Day 06 : Departure
After breakfast at hotel, you will be transferred to Yangon International airport for your return international departure flight. On the way back, enroute stop at Kyauktawgyi pagoda , which is one of the biggest marble Buddha Images in Myanmar with a height of 37ft (11m) and a weight of weighs over 600 tons. The classical name of this Image is Lawkachantha Abaya Labamuni, meaning World Peace and Prosperity. This Sitting Buddha Image is curved out from a single marble stone. The giant stone was found in the Sakyin region, Medaya Township in Mandalay Division. The draft sculpture was carried through the Ayeyarwaddy River down to Yangon. Then it was finally touched up. The sculpting and the enshrining got completed in 2008 and located in Insein. After that, we will transfer you to Yangon airport for your departure flight and conclude this wonderful travelling experience.
The package is inclusive of:
1. Accommodation in twin or double sharing room with daily breakfast
2. Transportation with private A/C vehicle during tour
3. English speaking guide service
4. Meal include as per program
5. Entrance fees for the sightseeing spots as per program (except Museums)
6. 1 traditional present for each client
7. Pure water and snow towel in sightseeing days
The package excludes the following services
1. Visa fee
2. International departure airport tax (USD 10 per person)
3. Tip to hotel and guide as you wish
4. Drinks, Beverages, laundry , tips and other expenses
5. Porter charges at the airport
6. Travel Insurance
7. Government tax & service charges
8. Flight from Bangalore to Myanmar extra
Booking Policy
Online Booking: You can purchase our services from our sales outlets at Bangalore or Chennai, or you can book your tour/services / payment online through our website. Our website provides the facility making online booking of tours and services. After confirmation in written from us via Email or by in writing.
Booking Amount
For the services contracted, a minimum deposit of 30% of the total cost is to be paid by you to Ravel Roads. The advance is required to hold the booking on confirmed basis.
Balance Payment
The full balance payment is to be paid 10 days prior to the date of start of services. Any booking made within 10 working days of the date of services would be considered as a late booking and for same the full and final payment is required to be made at the time of booking itself.
Note: Apart from above, in case of bookings for special train journeys, hotel or resort bookings during the peak season (Christ-mas, New Year) full payment is required to be made at the time of booking itself.
Payments: All payments are to be paid in behalf of Ravel Roads.
How to Pay:
Domestic payments
1. By Cash / Cheque / Demand Draft
2. By Electronic money transfer (RTGS & NEFT)
3. By Debit Card, Credit Card, UPI, net banking.
International payments
1. By Bank transfer to our bank (Bank Details)
2. By Online Payment Gateway through Razor Pay.
3. By Debit Card, Credit Card
In case of payment through credit card, the bank charges (3% extra) – would be levied over and above the total amount.
Note:
1. All payments should be free and clear of any withholding tax and deduction.
2. Bank charges, if any, for remittance (by remitting bank or by intermediary bank) would be strictly borne by payer.
---
Cancellation / No show / Early Departure Policy:
In case of cancellation of tour or travel services due to any reason, you are requested Please inform us in writing or by Email. Cancellation charges would be effective from the date we receive letter in writing and cancellation charges would be as follows:
Cancellation charges for any mode of transport ticket are applicable as per the rules of the concerned authority.
Air ticket issued on special fare are non-refundable and the guest shall bear cancellation charges.
Group Tours
1. If the reservation is cancelled 30 days prior to the date of arrival – 90% may be refunded (except the transaction charges).
2. If the reservation is cancelled 15 days prior to the date of arrival – 50% may be refunded (except the transaction charges) .
3. If the reservation is cancelled 07 days prior to the date of arrival – 25% may be refunded (except the transaction charges).
If the cancellation is any later than the above stated period or in case of 'No Show'- No Refund.
No refund or any changes will be accepted at last minute for tour starting or after starting or middle of the tour.
Individual Tours (FIT Tours)
Cancellation policy of Individual tours is subject to changes. It depends upon the cancellation policy of the respective hotels and other service operators your tour is associated with. Different hotels and service operators have different cancellation policies which we are required to abide by. In the unfortunate event of cancellation of trip by guests, we would charge 10% of total booking amount as processing charges +the charges levied by the corresponding service providers.
Please note:
The itinerary may have changed. The products and services displayed may have changed. The photos of meals/sightseeing are for reference and may differ from the actual meals/sights. Distance between places and temperatures are approximate and can change depending on travel, road conditions and climatic changes.
Itinerary may change at any time
we reserve the right to alter, amend, change or modify the tour package and itineraries before or during the tour. We will make reasonable efforts to notify you promptly of such changes as and when they are made.
Such changes may be necessitated due to factors beyond our control such as Force Majeure events, strikes, fairs, festivals, sport events, weather conditions, traffic problems, overbooking of hotels/flights, cancellation / re-routing of flights or railway, closure of / restricted entry at a place of sightseeing.
Generally, we try to avoid dates when big Fairs, Exhibitions and other events are held in certain cities as hotels are fully booked several years ahead.
If you have to travel on such dates, you may have to stay in alternate hotels or hotels in other cities.
We will make reasonable efforts to keep the overall package of services unchanged. However,
We shall not be liable to refund any amount or pay any compensation on account of any change in itinerary.