Nava Dwarka Tour Package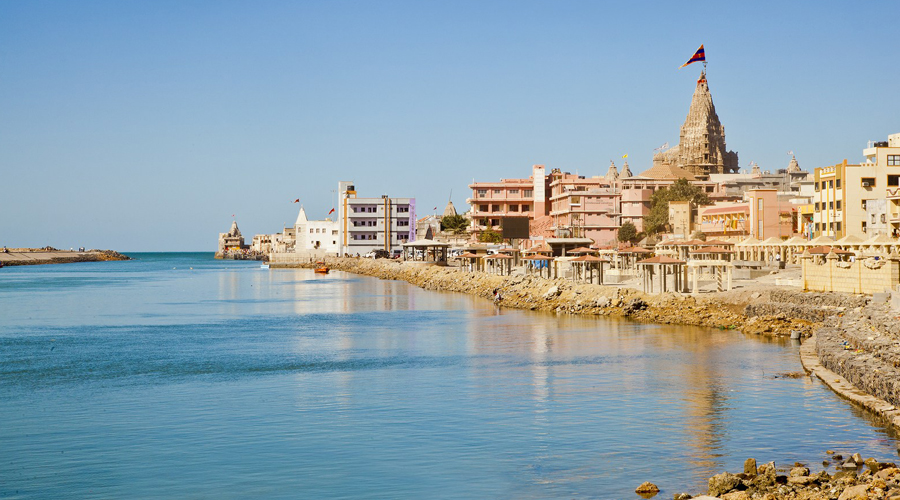 Dwarka is an ancient city and a municipality of  Devbhoomi Dwarka district  in the state of Gujarat in northwestern India. It is located on the western shore of the Okhamandal Peninsula on the right bank of the Gomti River. Dwarka is one of the foremost  Chardhams , one of the four sacred Hindu pilgrimage sites, and is one of the  Sapta Puri , the seven most ancient religious cities in the country. Dwarka is often identified with the Dwarka Kingdom, the ancient kingdom of Krishna, and is believed to have been the first capital of Gujarat. The first seven Dwarka is located in the state of Gujarat and balance two is located in Rajasthan.
Day 01
On your arrival at Ahmdebad airport around evening, our company representative will welcome you. After a short briefing, we will drive to Dakor, for dinner and overnight stay.
Day 02
Early morning, proceed to Darshan Ranachodrai which is also known as DAKOR DWARKA.
After darshan drive back to the hotel for breakfast and checkout and proceed to Bhavnagar. Lunch will be provided on the way.
Darshan Nishkalank Mahadev in Koliyak (Sea shore temple) and Darshan Khodiyar Matha (Sakthi peeth).
Check in to the hotel in Bhavnagar followed by dinner and overnight stay
After breakfast check out from hotel and drive to Somnath. Lunch will be provided on the way.
Darshan Prabhas (Bal ka teerth) in Veraval which is also known as MOKSHA DWARKA
Day 03
After Darshan Check in to the hotel followed by lunch and rest. Around 4 pm in the evening, proceed to Darshan the following temples in and around Somnath:
1. Balramgufa (Gita mandir) and Yadhava Sthali,
2. Darshan Somnath Mahadev Jyothirlinga temple. After Darshan, dinner and overnight stay in Somnath
Day 04
After Breakfast check out from hotel and drive to Porbander. Lunch will be provide on the way.
Darshan Sudhama house in Porbander also known as SUDHAMA DWARKA
Visit Gandhiji House and drive to darshan following temples in Dwarka district:
1. Krishna temple in MUL DWARKA
2. Harisiddhi Matha temple
3. Gobi Talab
4. Nageswar Jyothirlinga temple
After Darshan proceed to Okha port and cross the sea in Boat to Small Island and Darshan BET DWARKA
After Darshan Return Back to Rukmani Mandir also known as RUKMANI DWARKA
After Darshan Drive to Dwarka and check in to the hotel followed by dinner and stay in Dwarka.
Day 05
Early morning proceed to Darshan Sri Dwakadish Mandir(Main Temple)also known as DWARKA
After Darshan check out the hotel and long drive around 700 km to Nathdwar (Udaipur). Lunch and dinner will be provide on the way.
Check in to the hotel and overnight stay in Nathdwar
Day 06
Early morning proceed to Darshan Shrinathji in Nathdwar, also known as NATH DWARKA.
After Darshan have breakfast and check out from hotel and drive to Kankroli and Darshan Dwarkadeesh mandir, also known as KANKROLI DWARKA.
After Darshan proceed to Pushkar. Lunch will be provided on the way.
Check in to the hotel and rest in pushkar.
In the evening, Darshan Puskar pond and Ranganathji mandir.
After Darshan, dinner and overnight stay in Pushkar.
Day 07
After breakfast proceed to Darshan the following Mandir:
1. Saraswathi mandir by cable car and
2. Brahmaji Mandir.
After Darshan check out the hotel and drive to Udaipur. Lunch will be provided on the way. Check in the hotel and rest. In the evening visit Udaipur Palace. Dinner and overnight stay in Udaipur.
Day 08
After breakfast checkout from hotel and visit Udaipur lake and Darshan Jaganath Mandir and drive to Shyamalaji. Lunch will be provided on the way.
Darashan Shayamaji mandir and drive to Ahmedabad for dinner and overnight stay.
Day 09
After Breakfast checkout from hotel and proceed to Ahmedabad airport for drop and we will bid farewell for your onward journey.
Cost Includes :
1. Pickup and drop at railway station / Airport / Bus stand
2. Air-condition accommodation on Twin share basis
3. Vegetarian food for the entire trip (breakfast, Lunch and Dinner)
4. All transfer and temple visits by AC Vehicle
5. Vehicle permits, Toll, parking charges, driver allowance
6. Tour Manager and Guide Charges
7. One litre Water bottle three per day for each person
8. 2 Coffee or Tea per day for each person
Cost Excludes :
1. Onward and return flight tickets / Train Tickets / Bus Tickets
2. Entrance Tickets
3. Special Darshan Tickets in temples, if required
4. Auto charges at Vrindavan and Govardhan Parikrama and other local auto charges
5. Boating charges
6. Any expenses of personal nature like tips, laundry, telecom, internet, mini bar, room service, tips and porter fees
7. Any other meal/food not mentioned in the inclusion like cool drinks, Milkshakes, fruit salad, fruit juice, Ice cream.
8. Travel insurance and Medical expenses
9. Any other destination not mentioned in the itinerary.
10. Any monument, camera fees, entrance Fees
11. Cable rope car charges
12. Boating charges
Travel Insurance
It is highly recommended that the Tour Participants acquire adequate insurance cover to secure their life, health and property as may be advised by your insurance agent to cover any eventualities, associated with your overseas travel including health, accidental injury, loss, liability and the like depending on your assessment of your risk potential. The Tour Participants are advised to discuss your insurance needs directly with your insurance agent before proceeding on the tour and at your own cost procure any additional cover as may be advised. Please note, Insurance is the subject matter of solicitation, please read the terms and conditions of the insurance document carefully before finalizing your desired insurance cover.
Dress Code
It is mandatory to wear the traditional dress as mentioned below. Otherwise the temple authorities will not permit you to enter the temple. The pilgrims shall wear Traditional Dress only.
Male: Dhoti, Shirt, Pant, Kurtha, Paijama.
FeMale: Saree, Half Saree, Chudidhar with Dupatta.
Do's in Temple:
Concentrate on the Diety inside the temple.
Respect ancient customs and traditions while in temple.
Respect religious sentiments among co-pilgrims
Deposit your offerings only in the Hundi.
Follow the procedures of the temple and wait for your turn for the Darshan of the Lord.
Don'ts in Temple:
Carrying much jewellery and cash.
Wearing footwear in and around the premises of the temple
Throwing away the prasadam and theertham given to you at the temple.
Eating non-vegetarian food, consumption of liquor and other intoxicants and Smoking while in Temple.
Wearing any head guards such as helmets, caps, turbans and hats inside the temple premises.
Committing any act of violence or harshness in the temple premises.
Spit or be a nuisance inside the temple premises.
Mobile phones and other electronic gadgets/equipments
Cancellation Policy
Cancellation by the travellers: After booking your trip, if you wish to cancel the tour you must notify our office in writing.
Full amount will not be refunded after the cancellation of booking. The amount to be refunded are shown below:
1. 10% deduction – Before 30 days from the date of Booking
2. 25% deduction – Between 15 to 29 days
3. 50% deduction – Between 7 to 14 days
4. In case of Cancellation done within 7days before the tour started date, no refund will be made.
5. Flight refund as per airline policy please check your tickets for details.
Accommodation
Accommodation in Kailash Manasarovar Overland Tour:- Accommodation of Kathmandu is on 3/4 star category hotel on twin sharing and accommodation in Kailash region is on group sharing local Guesthouses/ Mud houses. Please do not expect more facilitated accommodation in Kailash. Toilets are out of the room and it is common. More place like Manasarovar, Derapuk and in Juthulpuk is an open toilet. Nowadays people can choose deluxe guest houses in some of the route in Kailash Mansarovar. Deluxe guest houses have built-in Nyalam, Saga and In Darchen.
Accommodation of Central Tibet, Shigatse, Lhatse, Gyantse and in Lhasa is your choice to choose either Basic, Standard or Deluxe hotels. In Lhasa deluxe hotels or 5-star category are available.
Accommodation in Everest base Camp Route and the Guge Kingdom are all basic guest houses and Hotels.
Extra Expenses
We have mentioned all the extra expenses of your trip on every trip details. Please be sure with it before your trip confirmation with us.
Normally
* Personal Helper and Horse * Emergency rescue in case of need *
Booking Policy
1. Application should be submitted at least 30 days before the provisional date of departure.
2. Minimum of 6 months valid Passport scan copy by mail or passport copy by courier should summit when the booking is made
3. Upon the confirmation, 25% deposit amount per person (INR 25,000) is required which is nonrefundable.
4. In the case of Lhasa Kailash tour deposit amount is USD 1000 or equvalent currency.
5. Our company trip booking form with your signature as per our term and condition
6. All the clients need to carry ID Proof, (Voter ID Proof) OR passport original while traveling by air.
7. The itinerary can be changed without notice due to unavoidable circumstance beyond our control such as political unrest, Natural calamities, changes in the itinerary by the Chinese authorities, etc.
Cancellation Policy
1. Rs.25, 000/- non-refundable, if the booking is done.
2. 50% cancellation charges of the rate package cost in case cancellation is received between 7 – 15 days of departure
3. No refund in case cancellation is done after your permit and visa.
4. No refund or adjustment will be made in the event of interruption of journey by a client on his own after commencement of the tour.
5. Any changes in given itinerary requested by the client will be on chargeable basis
6. Extra accommodation in Kathmandu over 3 nights as per itinerary due to early arrival from Kailash, rescue charges, medical bills are bill direct to Yatris.
7. If the trip is disturbed in case of Visa/ permit problem creat from Tibet, or any other reason which is not in our hand, it is clients own risk and all the expenses are paid by clients.
Equipment List
Down Sleeping Bag
Group joining trip to Mt. Kailash do not need any sleeping bag. All your accommodation in guest house will provide warm blankets. Other than Kailash Manasarovar tour, you night need warm/down sleeping bag. Touch Kailash Travel can provide you down sleeping bag without paying and it is returnable after the trip.
Down Jacket
Touch Kailash Travel can provide warm jacket without paying for your trip which is returnable after the trip.
Doffel bag and hand carry bag
Touch Kailashg Travels and Tours provide you duffel bag to put your goods and hand carry bag too. You can leave your suitcase or any of your bag in kathmandu hotel carried from your home.
Warm head cover Cap
Touch Kailash Travel provide you warm and head cover cap for your trip
Comfirtable warm walking shoes, Extra one pair
Water bottle at least for 2 liter including Thormas for keeping water hot You have to drink at least 3 litter water for a day and your team will provide you drinking water at every meal time. Hot water will be provided morning and evening only. so you have to have your thormas to keep hot water during day time.
Rain wear (Umbrella or Raincoat)
Woollen/thermal long underwear
3 pairs of thick and tights warm socks
warm light gloves
Wind and water prooft trouser and Jacket
Up and down warm thormal