Andhra Pradesh Temple Tour Package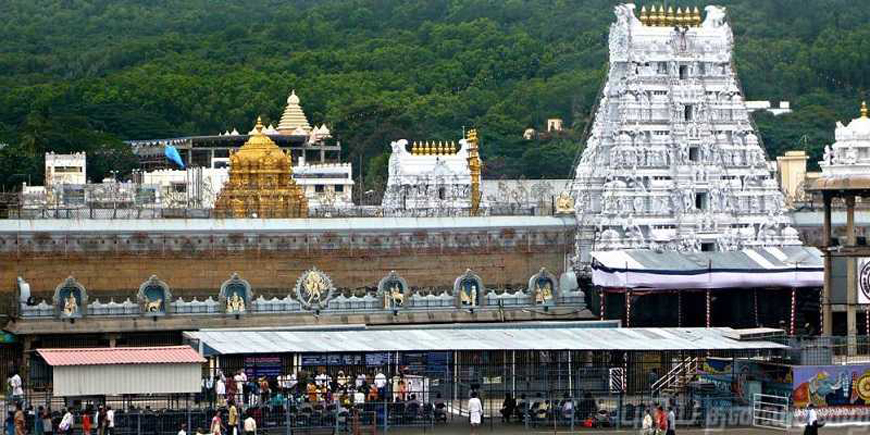 Andhra Pradesh state is rich in historical monuments, architectural beauty, natural attractions and many holy temples.
Lakshmi Narasimha Temple is a  vaishnavite  temple and one of the eight sacred places of Lord Vishnu in India. It is situated at the foot of the Auspicious Hill in  Mangalagiri  of Guntur district of Andhra Pradesh. It is one of the temples in the series of three temples located on and at the bottom of the hill, the other two being Panakala Narasimha Temple on the hill and Gandala Narasimha Temple at the top of the hill.
The Kanaka Durga Temple of Vijayawada is one of the most famous temple of Goddess Durga in India,located on hill of Indrakeeladri in Vijayawada on the banks of Krishna River. Kanaka Durga is self-manifested and also mentioned in the sacred texts as Goddess of power and the presiding deity of Vijayawada.
Annavaram is a village on the banks of the Pampa River. It is located in East Godavari district of the Indian state of Andhra Pradesh. The village has the temple of Veera Venkata Satyanarayana, a form of Vishnu on the Ratnagiri Hill.
The historic temple at the Simhachalam is dedicated to Lord Narasimha, an incarnation of Lord Vishnu. Simhachalam Temple is located in Visakhapatnam city and built in Kalinga architectural style.
Arasavalli Sun Temple is a 7th-century AD Sun Temple at  Arasavalli  in Andhra Pradesh, India. It is situated in Arasavalli Village at a distance of 1 km east of Srikakulam Town. It is believed that the temple was built by king Devendra Varma, ruler of the Kalinga Dynasty. [1]  The temple is still being visited today and is one of the most popular tourist attractions in the town. This temple is considered as one of the oldest sun temples in India.
Srikurmam Kurmanathaswamy Temple (also known as Srikurmam temple) is a Hindu temple in the  Gara   mandal  of the Srikakulam district in the South Indian state of Andhra Pradesh. It is dedicated to the  Kurma  avatar of the Hindu God Vishnu, who is worshipped as Kurmanathaswamy, and his consort Lakshmi, worshipped as Kurmanayaki. According to Hindu legend, the presiding deity is believed to have manifested here in the form of a tortoise-shaped deity upon the wishes of Swetha Chakravarthi. Brahma then consecrated the deity with Gopala Yantra. The temple is famous for ancestor worship.
The Sri Sita Ramachandraswamy temple is a South Indian Hindu temple dedicated to Rama, the seventh incarnation of the god Vishnu. It is located on the shores of the Godavari River in the town of  Bhadrachalam , a part of the  Bhadradri Kothagudem district  in Telangana state. Often simply referred to as Bhadrachalam or Bhadradri, the temple is considered one of the Divya Kshetrams of Godavari and is also revered as Dakshina  Ayodhya . According to the legend, Vishnu appeared to Meru's son Bhadra as Rama to answer the latter's prayers. However, Vishnu forgot that Rama was a mortal human and appeared as Vaikuntha Rama with four hands.  Sita  and Lakshmana form part of the temple's  moolavar.
Day 01
On your arrival at the Vijayawada Railway Station, our company representative will welcome you and check in to the hotel followed by lunch, After a short briefing, we will move on to Mangalagiri and Darsha Panakala Narasimhar (Uphill Temple) and Lakshmi Narasimhar (Adivaram Temple).
After Darshan Proceed to Vijayawada and Darshan Kanaka Durga (Uphill Temple). Dinner and Overnight stay in Vijayawada.
Day 02
After Breakfast check out of the hotel and drive to Annavaram. Lunch will be provided on the way. Darshan Veera Venkata Sathya Narayana Swamy (Uphill) in Annavaram.
After Darshan proceed to Vizag and check in to the hotel for dinner and overnight stay.
Overnight stay at the hotel at Tiruchanoor after dinner
Day 03
After Breakfast proceed to Simachalam and drive uphill to Simhadri to Darshan Narsimha.
After Darshan, drive to Arasavalli. Lunch will be provided on the way. Darshan Sun Temple in Arasavalli and proceed to Darshan Sri Kurmanathaswamy temple in Srikoormam.
After Darshan drive back to Vizag (If time permits visit Vizag Beach)for dinner and overnight stay.
Day 04
After Breakfast check out of the hotel and drive to Bhadrachalam. Lunch will be provided on the way. Darshan Sri Ramachandra murthy in Bhadrachalam. Dinner and overnight stay at Bhadrachalam.
Day 05
After Breakfast check out from the hotel and proceed to Vijayawada. Lunch will be provided on the way. We will drop you at the Vijayawada Railway station and bid farewell for your onward journey.
Cost Includes :
1. Pickup and drop at railway station
2. Air-condition accommodation on Twin share basis
3. Vegetarian food (4Breakfast, 4Lunch and 4Dinner)
4. All transfer and temple visits by AC Vehicle
5. Vehicle permits, Toll, parking charges, driver allowance
6. Tour Manager Charges
7. One litre Water bottle (3 nos) per day for each person
8. 2 Coffee or Tea per day for each person
Cost Excludes :
1. Onward and return flight tickets
2. Auto Charges
3. Entrance Tickets
4. Special Darshan Tickets in temples, if required
5. Any expenses of personal nature like tips, laundry, telecom, internet, mini bar, room service, Tips and porter fees.
6. Any other meal/food not mentioned in the inclusion like cool drinks, Milkshakes, fruit salad, fruit juice, Ice cream.
7. Travel insurance and Medical expenses
8. Any other destination not mentioned in the itinerary.
9. Any monument, camera fees, entrance Fees
Travel Insurance
It is highly recommended that the Tour Participants acquire adequate insurance cover to secure their life, health and property as may be advised by your insurance agent to cover any eventualities, associated with your overseas travel including health, accidental injury, loss, liability and the like depending on your assessment of your risk potential. The Tour Participants are advised to discuss your insurance needs directly with your insurance agent before proceeding on the tour and at your own cost procure any additional cover as may be advised. Please note, Insurance is the subject matter of solicitation, please read the terms and conditions of the insurance document carefully before finalizing your desired insurance cover.
Dress Code
It is mandatory to wear the traditional dress as mentioned below. Otherwise the temple authorities will not permit you to enter the temple. The pilgrims shall wear Traditional Dress only.
Male: Dhoti, Shirt, Pant, Kurtha, Paijama.
FeMale: Saree, Half Saree, Chudidhar with Dupatta.
Do's in Temple:
Concentrate on the Deity inside the temple.
Respect ancient customs and traditions while in temple.
Respect religious sentiments among co-pilgrims
Deposit your offerings only in the Hundi.
Follow the procedures of the temple and wait for your turn for the Darshan of the Lord.
Don'ts in Temple:
Carrying much jewellery and cash.
Wearing footwear in and around the premises of the temple
Throwing away the prasadam and theertham given to you at the temple.
Eating non-vegetarian food, consumption of liquor and other intoxicants and Smoking while in Temple.
Wearing any head guards such as helmets, caps, turbans and hats inside the temple premises.
Committing any act of violence or harshness in the temple premises.
Spit or be a nuisance inside the temple premises.
Mobile phones and other electronic gadgets/equipments
Important Note:
NRI's and Foreigners can get privileged darshan in Tirumala by getting access to the Supadham entry. In order to get this facility, devotees should report to Supadham entry from 12 noon to 5 pm with relevant documents like valid visa and original passport within 30 days of your arrival to India. Once the documents are verified and the Darshan fee Rs 300 is paid, NRIs can access Darshan through Supadham entry. Please note, this facility cannot be booked online and has to be accessed only on arrival.
Cancellation Policy
Cancellation by the travellers: After booking your trip, if you wish to cancel the tour you must notify our office in writing.
Full amount will not be refunded after the cancellation of booking. The amount to be refunded are shown below:
1. 10% deduction – Before 30 days from the date of Booking
2. 25% deduction – Between 15 to 29 days
3. 50% deduction – Between 7 to 14 days
4. In case of Cancellation done within 7days before the tour started date, no refund will be made.
5. Flight refund as per airline policy please check your tickets for details.
Accommodation
Accommodation in Kailash Manasarovar Overland Tour:- Accommodation of Kathmandu is on 3/4 star category hotel on twin sharing and accommodation in Kailash region is on group sharing local Guesthouses/ Mud houses. Please do not expect more facilitated accommodation in Kailash. Toilets are out of the room and it is common. More place like Manasarovar, Derapuk and in Juthulpuk is an open toilet. Nowadays people can choose deluxe guest houses in some of the route in Kailash Mansarovar. Deluxe guest houses have built-in Nyalam, Saga and In Darchen.
Accommodation of Central Tibet, Shigatse, Lhatse, Gyantse and in Lhasa is your choice to choose either Basic, Standard or Deluxe hotels. In Lhasa deluxe hotels or 5-star category are available.
Accommodation in Everest base Camp Route and the Guge Kingdom are all basic guest houses and Hotels.
Extra Expenses
We have mentioned all the extra expenses of your trip on every trip details. Please be sure with it before your trip confirmation with us.
Normally
* Personal Helper and Horse * Emergency rescue in case of need *
Booking Policy
1. Application should be submitted at least 30 days before the provisional date of departure.
2. Minimum of 6 months valid Passport scan copy by mail or passport copy by courier should summit when the booking is made
3. Upon the confirmation, 25% deposit amount per person (INR 25,000) is required which is nonrefundable.
4. In the case of Lhasa Kailash tour deposit amount is USD 1000 or equvalent currency.
5. Our company trip booking form with your signature as per our term and condition
6. All the clients need to carry ID Proof, (Voter ID Proof) OR passport original while traveling by air.
7. The itinerary can be changed without notice due to unavoidable circumstance beyond our control such as political unrest, Natural calamities, changes in the itinerary by the Chinese authorities, etc.
Cancellation Policy
1. Rs.25, 000/- non-refundable, if the booking is done.
2. 50% cancellation charges of the rate package cost in case cancellation is received between 7 – 15 days of departure
3. No refund in case cancellation is done after your permit and visa.
4. No refund or adjustment will be made in the event of interruption of journey by a client on his own after commencement of the tour.
5. Any changes in given itinerary requested by the client will be on chargeable basis
6. Extra accommodation in Kathmandu over 3 nights as per itinerary due to early arrival from Kailash, rescue charges, medical bills are bill direct to Yatris.
7. If the trip is disturbed in case of Visa/ permit problem creat from Tibet, or any other reason which is not in our hand, it is clients own risk and all the expenses are paid by clients.
Equipment List
Down Sleeping Bag
Group joining trip to Mt. Kailash do not need any sleeping bag. All your accommodation in guest house will provide warm blankets. Other than Kailash Manasarovar tour, you night need warm/down sleeping bag. Touch Kailash Travel can provide you down sleeping bag without paying and it is returnable after the trip.
Down Jacket
Touch Kailash Travel can provide warm jacket without paying for your trip which is returnable after the trip.
Doffel bag and hand carry bag
Touch Kailashg Travels and Tours provide you duffel bag to put your goods and hand carry bag too. You can leave your suitcase or any of your bag in kathmandu hotel carried from your home.
Warm head cover Cap
Touch Kailash Travel provide you warm and head cover cap for your trip
Comfirtable warm walking shoes, Extra one pair
Water bottle at least for 2 liter including Thormas for keeping water hot You have to drink at least 3 litter water for a day and your team will provide you drinking water at every meal time. Hot water will be provided morning and evening only. so you have to have your thormas to keep hot water during day time.
Rain wear (Umbrella or Raincoat)
Woollen/thermal long underwear
3 pairs of thick and tights warm socks
warm light gloves
Wind and water prooft trouser and Jacket
Up and down warm thormal