Discover Vietnam Tour Package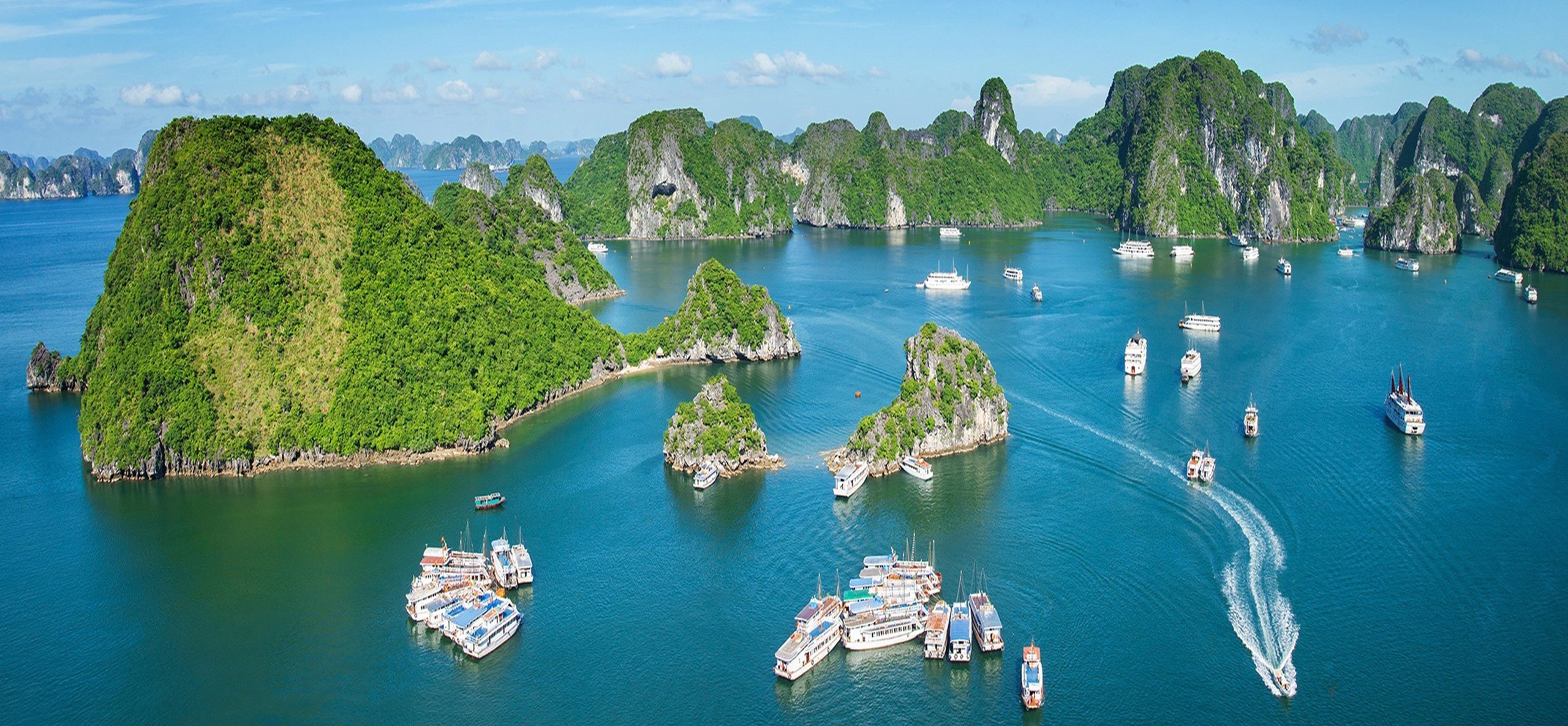 Day 01 : Welcome to Vietnam – Hanoi (XXX)
Upon arrival, you will be met our local guide at the Noi Bai international airport and transfer to Hanoi for check in.
Overnight in Hanoi.
Day 02 : Hanoi - Halong Bay – Hanoi (BLX)
In the morning, Take 3 hours trip to Halong Bay. Halong, descending dragon bay, is a UNESCO World Heritage Site, and a popular travel destination, the bay features thousands of limestone karsts and isles in various sizes and shapes. Ha Long Bay also marked important events in the history of Vietnam with many artifacts found in Bai Tho Moutain, Dau Go Cave, Bai Chay.
You will take a private boat trip 4 hours to visit Ha Long bay (A Natural World Heritage) with: Thien Cung grotto, Dau Go Cave, Dinh Huong, Ga Choi Islet... This is crammed with stalactites and stalagmites. There are numerous rocks and islands, which are predominantly composed of hardened dolomite together with smaller amounts of calcium carbonate and lunch on boat with fresh seafood.
Overnight in Hanoi.
Day 03 : Transfer to Ho Chi Minh City (BXX)
Wake up and enjoy the sunrise, a wholesome breakfast.
Morning will be free and easy.
Morning transfer to Noibai airport and take fly to HCM City. Transfer to Hotel.
After reaching hotel you can relax and go out to look around the nearby market for shoppingOvernight in Hotel in HCM CITY.
Day 04 : Ho Chi Minh full day city tour (BLX)
08:00 Start your tour with The Reunification Palace, used to be residence of the President of the Republic of Vietnam. In 30 April 1975, the when North Vietnam soldier set foot inside this building with red flag on hand, the whole world knew that Vietnam war was end.
Next stop is War Remnants Museum, on the way stop to visit Notre Dame Cathedral and Old Post Office, 2 most famous and oldest of classical French colonial architecture construction was built more than 100 years ago. War Remnants Museum with many photographs are from both Vietnam and US sources; US military vehicle like tanks, jet, booms display outside. After lunch and a short rest, we continue city tour by discover eastern side of the city. Giac Lam Pagoda, the oldest one in Ho Chi Minh City with huge Buddha statue system which was built on 1774. Then ride to Cho Lon (Big Market) and Thien Hau Pagoda which located inside China Town, it's a place of great historical and cultural importance many of temples, pagodas in surrounding area. Before the tour ends, stop over for shopping at Ben Thanh Market in city center.
You will be transferred to the hotel after the trip.
Night you will stay in Ho Chi Minh City.
Day 05 : Saigon - Mekong Delta (BLX)
Morning: After breakfast, a two-hour drive to My Tho will expose the colorful outskirt life as well as picturesque rice fields along the journey. Upon arrival, get on a boat trip up Mekong River with islet stop at Thoi Son to taste seasonal fruits, enjoy traditional folk songs.
Then, visit the authentic life of the local and challenge your bargaining power at cottage handicraft shops. An adventurous sampan ride in palm shading creeks will be the next experience of the riverside region. Lunch to be served with the Mekong Delta specialty - Deep Fried Elephant ear fish. Afternoon: Back to Ho Chi Minh City.
You will stay tonight in Ho Chi Minh City
Day 06 : Saigon (Ho Chi Minh City) - Cu Chi Tunnel - City Tour (BXX)
Morning: Pick up at hotel, transfer to visit Cu Chi. Sightseeing on road such as; rice field and potter's kilns. Visit the underground village, which used to be a bitter battle ground for a long period during the Vietnam War. The amazing network of over 200 km of underground tunnels will offer you impression of the former fierce war in South Vietnam.
Afternoon: Transfer back to Ho Chi Minh International Airport
End of services!
Cost Includes :
1. Accommodation in a double or twin room with daily breakfast
2. Tour price for 1pax travelling based on single room already
3. Round trip airport transfer by private transportation without guide
4. Meals at local restaurant (Vietnamese/Indian wherever possible)
5. Entrance fees for sightseeing with English Guide (Group Tour)
6. Boat for sightseeing in Ha Long & Ninh Binh
7. Mineral water is available as complementary
Cost Excludes :
1. Tips for hotel staff, restaurant staff, boat people, etc.
2. International flights not included
3. Meals, if not specified in the itinerary
4. Tipping for hotel staff, restaurant staff, boat people, trishaw men etc.
5. Gratuities for guides and drivers
6. Personal expenses, such as laundry, telephone, drinks, etc...
7. All other services not specified in the itinerary
8. Travel insurance (we highly recommend that you purchase adequate insurance).
9. Surcharge for Tet Lunar New year holidays, Xmas and New year's Eve
10. Tipping for guide and driver: USD 4/ Pax/ day
11. Visa
Visa to Vietnam:
Visitors can get visa on arrival.
Visa on arrival: You will get Vietnam visa when you arrive at the international airport of Vietnam with visa letter that is processed by us and offer free for your group. Please advise if your customers chose this option.
Otherwise we can help you do to E-visa through visa agency USD 25/one person (net price, no commission for us), they sell USD45/one person. Please see their website: https://www.visa4vietnam.com/articles/e-visa/
Cambodia Visa stamp fee: 30$ (Passport valid more than 6 months, enough space for visa stamp (2 free spaces), 1 passport photo (4X6), cash 30$)
Hotels: 3 Stars: OR SIMILAR
Booking Policy
Online Booking: You can purchase our services from our sales outlets at Bangalore or Chennai, or you can book your tour/services / payment online through our website. Our website provides the facility making online booking of tours and services. After confirmation in written from us via Email or by in writing.
Booking Amount
For the services contracted, a minimum deposit of 30% of the total cost is to be paid by you to Ravel Roads. The advance is required to hold the booking on confirmed basis.
Balance Payment
The full balance payment is to be paid 10 days prior to the date of start of services. Any booking made within 10 working days of the date of services would be considered as a late booking and for same the full and final payment is required to be made at the time of booking itself.
Note: Apart from above, in case of bookings for special train journeys, hotel or resort bookings during the peak season (Christ-mas, New Year) full payment is required to be made at the time of booking itself.
Payments: All payments are to be paid in behalf of Ravel Roads.
How to Pay:
Domestic payments
1. By Cash / Cheque / Demand Draft
2. By Electronic money transfer (RTGS & NEFT)
3. By Debit Card, Credit Card, UPI, net banking.
International payments
1. By Bank transfer to our bank (Bank Details)
2. By Online Payment Gateway through Razor Pay.
3. By Debit Card, Credit Card
In case of payment through credit card, the bank charges (3% extra) – would be levied over and above the total amount.
Note:
1. All payments should be free and clear of any withholding tax and deduction.
2. Bank charges, if any, for remittance (by remitting bank or by intermediary bank) would be strictly borne by payer.
---
Cancellation / No show / Early Departure Policy:
In case of cancellation of tour or travel services due to any reason, you are requested Please inform us in writing or by Email. Cancellation charges would be effective from the date we receive letter in writing and cancellation charges would be as follows:
Cancellation charges for any mode of transport ticket are applicable as per the rules of the concerned authority.
Air ticket issued on special fare are non-refundable and the guest shall bear cancellation charges.
Group Tours
1. If the reservation is cancelled 30 days prior to the date of arrival – 90% may be refunded (except the transaction charges).
2. If the reservation is cancelled 15 days prior to the date of arrival – 50% may be refunded (except the transaction charges) .
3. If the reservation is cancelled 07 days prior to the date of arrival – 25% may be refunded (except the transaction charges).
If the cancellation is any later than the above stated period or in case of 'No Show'- No Refund.
No refund or any changes will be accepted at last minute for tour starting or after starting or middle of the tour.
Individual Tours (FIT Tours)
Cancellation policy of Individual tours is subject to changes. It depends upon the cancellation policy of the respective hotels and other service operators your tour is associated with. Different hotels and service operators have different cancellation policies which we are required to abide by. In the unfortunate event of cancellation of trip by guests, we would charge 10% of total booking amount as processing charges +the charges levied by the corresponding service providers.
Please note:
The itinerary may have changed. The products and services displayed may have changed. The photos of meals/sightseeing are for reference and may differ from the actual meals/sights. Distance between places and temperatures are approximate and can change depending on travel, road conditions and climatic changes.
Itinerary may change at any time
we reserve the right to alter, amend, change or modify the tour package and itineraries before or during the tour. We will make reasonable efforts to notify you promptly of such changes as and when they are made.
Such changes may be necessitated due to factors beyond our control such as Force Majeure events, strikes, fairs, festivals, sport events, weather conditions, traffic problems, overbooking of hotels/flights, cancellation / re-routing of flights or railway, closure of / restricted entry at a place of sightseeing.
Generally, we try to avoid dates when big Fairs, Exhibitions and other events are held in certain cities as hotels are fully booked several years ahead.
If you have to travel on such dates, you may have to stay in alternate hotels or hotels in other cities.
We will make reasonable efforts to keep the overall package of services unchanged. However,
We shall not be liable to refund any amount or pay any compensation on account of any change in itinerary.
Accommodation
Accommodation in Kailash Manasarovar Overland Tour:- Accommodation of Kathmandu is on 3/4 star category hotel on twin sharing and accommodation in Kailash region is on group sharing local Guesthouses/ Mud houses. Please do not expect more facilitated accommodation in Kailash. Toilets are out of the room and it is common. More place like Manasarovar, Derapuk and in Juthulpuk is an open toilet. Nowadays people can choose deluxe guest houses in some of the route in Kailash Mansarovar. Deluxe guest houses have built-in Nyalam, Saga and In Darchen.
Accommodation of Central Tibet, Shigatse, Lhatse, Gyantse and in Lhasa is your choice to choose either Basic, Standard or Deluxe hotels. In Lhasa deluxe hotels or 5-star category are available.
Accommodation in Everest base Camp Route and the Guge Kingdom are all basic guest houses and Hotels.
Extra Expenses
We have mentioned all the extra expenses of your trip on every trip details. Please be sure with it before your trip confirmation with us.
Normally
* Personal Helper and Horse * Emergency rescue in case of need *
Booking Policy
1. Application should be submitted at least 30 days before the provisional date of departure.
2. Minimum of 6 months valid Passport scan copy by mail or passport copy by courier should summit when the booking is made
3. Upon the confirmation, 25% deposit amount per person (INR 25,000) is required which is nonrefundable.
4. In the case of Lhasa Kailash tour deposit amount is USD 1000 or equvalent currency.
5. Our company trip booking form with your signature as per our term and condition
6. All the clients need to carry ID Proof, (Voter ID Proof) OR passport original while traveling by air.
7. The itinerary can be changed without notice due to unavoidable circumstance beyond our control such as political unrest, Natural calamities, changes in the itinerary by the Chinese authorities, etc.
Cancellation Policy:
In any circumstances, if any customers cannot participate for the tour, the cancellation charge will be as follows:
1. 30 Days Before Tour Date 50 % of Tour Cost
2. 20 Days Before Tour Date 75% of Tour Cost
3. 15 Days Before Tour Date 100% of Tour Cost
ADVANCE AMOUNT WILL NOT BE REFUNDABLE
All disputes pertaining to the tour and any claim arising there under shall be subject to the Court of competent jurisdiction at Bangalore only.
Itinerary / Tour Cost / Date / Terms And Conditions / Cancellation Policy Are Subject To Change
Equipment List
Down Sleeping Bag
Group joining trip to Mt. Kailash do not need any sleeping bag. All your accommodation in guest house will provide warm blankets. Other than Kailash Manasarovar tour, you night need warm/down sleeping bag. Touch Kailash Travel can provide you down sleeping bag without paying and it is returnable after the trip.
Down Jacket
Touch Kailash Travel can provide warm jacket without paying for your trip which is returnable after the trip.
Doffel bag and hand carry bag
Touch Kailashg Travels and Tours provide you duffel bag to put your goods and hand carry bag too. You can leave your suitcase or any of your bag in kathmandu hotel carried from your home.
Warm head cover Cap
Touch Kailash Travel provide you warm and head cover cap for your trip
Comfirtable warm walking shoes, Extra one pair
Water bottle at least for 2 liter including Thormas for keeping water hot You have to drink at least 3 litter water for a day and your team will provide you drinking water at every meal time. Hot water will be provided morning and evening only. so you have to have your thormas to keep hot water during day time.
Rain wear (Umbrella or Raincoat)
Woollen/thermal long underwear
3 pairs of thick and tights warm socks
warm light gloves
Wind and water prooft trouser and Jacket
Up and down warm thormal