Parshuram Kund Tour Package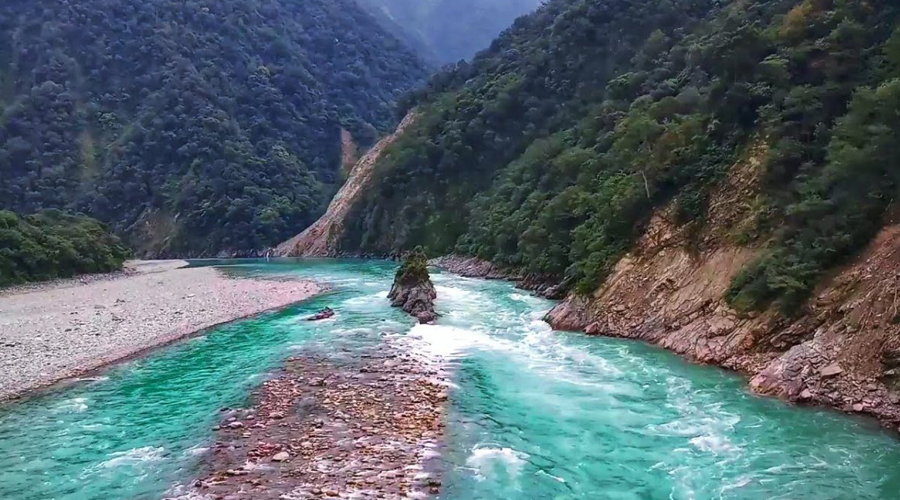 Parshuram Kund is a Hindu pilgrimage sites situated on the Brahmaputra plateau in the lower reaches of the Lohit River and 21 km north of Tezu in Lohit district of Arunachal Pradesh, India. Dedicated to sage Parshuram, the popular site attracts pilgrims from Nepal, from across India, and from nearby states of Manipur and Assam. Over 70,000 devotees and sadhus take a holy dip in its water each year on the occasion of Makar Sankranti, in the month of January.
It is a shrine of all-India importance located in the lower reaches of the Lohit River. Thousands of pilgrims visit the place in winter every year, especially on the Makar Sankranti day for a holy dip in the sacred kund which is believed to wash away one's sins. There is a mythological story behind this beautiful place as told by the local people. It is believed that Lord Parashuram the sixth incarnation of Lord Vishnu, on the orders of his father Rishi Jamadagni, beheaded his mother Renuka with his axe. Since he had committed one of the worst crimes of killing one's mother, the axe got stuck to his hand. His father pleased with his obedience decided to give him a boon to which he asked for his mother to be restored back to life. Even after his mother was brought back to life the axe could not be removed from his hand. This was a reminder of the heinous crime he had committed. He repented for his crime and on taking the advice of eminent rishis of that time, he arrived at the banks of Lohit River to wash his hands in its pure waters. It was a way to cleanse him of all the sins. As soon as he dipped his hands into the waters the axe immediately got detached and since then the site where he washed his hands became a place of worship and came to be known by sadhus as Parashuram Kund. Also there are many stories varying from region to region in India that describe the above incident and there are numerous temples dedicated to Lord Parashuram most of which are in Kerala. But this place attracts many pilgrims from near and far and quite a few sanyasis reside here and take care of the temple that is dedicated to Lord Parashuram.
The site of the Parashuram Kund as established by the sadhu was in existence until the 1950 Assam earthquake that shook the whole of the North-East and the kund was completely covered. A very strong current is now flowing over the original site of the kund but massive boulders have in a mysterious way embedded themselves in a circular formation in the river bed thus forming another kund in place of the old.
Day 01
On your arrival at Diburgarh our company representative will receive you and check into the hotel followed by lunch and rest. In the evening short briefing about the tour will be done and take a walk in the tea estate and enjoy performance ethnic dance group. Dinner and overnight stay in Diburgarh.
Day 02
After Leisure breakfast drive to Brahmaputra river and take cruise or country boat and travel upto beach island in the middle of the river. If lucky you can see migratory birds and fresh water dolphins. Enjoy your lunch in the island and view the eastern Himalayas. In the evening visit local market. Dinner and Overnight stay in Diburgarh.
Day 03
Total distance covered: 186 Kms
After breakfast checkout from the hotel and drive to Wakro. Lunch will be provided on the way. Enroute, also visit the emphong village of the khampti tribe and the Buddhist monastery. Check in to the Mishmi Retreat is Traditional huts. Dinner and Overnight stay in Wakro.
Day 04 & 05
Total distance covered: 40 Kms Per day
After breakfast, proceed to parshuram kund and take a holy dip in the lohit river for this two days. During makra sankranti day is very special to take a dip in Parshuram kund. Also visit the local Mishmi villages and learn about their rich cultures and tradition. Dinner and overnight stay in Wakro for these two days.
Day 06
Total distance covered: 159 Kms
After breakfast check out from the hotel and drive back to Tinsukia. Lunch will be provided on the way. Enroute also visit the digboi oil museum. In the evening check in to the hotel. Dinner and overnight stay in Tinsukia.
Day 07
Total distance covered: 50 Kms
After Leisure breakfast drive to Diburgarh airport to get dropped and bid farewell for your onward journey.
* Inclusions and Exclusions as applicable for your tour package.
Cost Includes :
1. Pickup and drop at railway station / Airport / Bus stand
2. Air-condition accommodation on Twin share basis
3. Vegetarian food for the entire trip (breakfast, Lunch and Dinner)
4. All transfer and temple visits by AC Vehicle
5. Vehicle permits, Toll, parking charges, driver allowance
6. Tour Manager and Guide Charges
7. One litre Water bottle three per day for each person
8. 2 Coffee or Tea per day for each person
Cost Excludes :
1. Onward and return flight tickets/ Train Tickets/ Bus Tickets
2. Doli charges as applicable in various temples
3. Auto charges
4. Special Darshan Tickets in temples, if required
5. Any expenses of personal nature like tips, laundry, telecom, internet, mini bar, room service, Tips and porter fees.
6. Any other meal/food not mentioned in the inclusion like cool drinks, Milkshakes, fruit salad, fruit juice, Ice cream.
7. Travel insurance and Medical expenses
8. Any other destination not mentioned in the itinerary.
9. Any monument, camera fees, entrance Fees
Travel Insurance
It is highly recommended that the Tour Participants acquire adequate insurance cover to secure their life, health and property as may be advised by your insurance agent to cover any eventualities, associated with your overseas travel including health, accidental injury, loss, liability and the like depending on your assessment of your risk potential. The Tour Participants are advised to discuss your insurance needs directly with your insurance agent before proceeding on the tour and at your own cost procure any additional cover as may be advised. Please note, Insurance is the subject matter of solicitation, please read the terms and conditions of the insurance document carefully before finalizing your desired insurance cover.
Dress Code
It is mandatory to wear the traditional dress as mentioned below. Otherwise the temple authorities will not permit you to enter the temple. The pilgrims shall wear Traditional Dress only.
Male: Dhoti, Shirt, Pant, Kurtha, Paijama.
Female: Saree, Half Saree, Chudidhar with Dupatta.
Do's in Temple:
Concentrate on the Diety inside the temple.
Respect ancient customs and traditions while in temple.
Respect religious sentiments among co-pilgrims
Deposit your offerings only in the Hundi.
Follow the procedures of the temple and wait for your turn for the Darshan of the Lord.
Don'ts in Temple:
Carrying much jewellery and cash.
Wearing footwear in and around the premises of the temple
Throwing away the prasadam and theertham given to you at the temple.
Eating non-vegetarian food, consumption of liquor and other intoxicants and Smoking while in Temple.
Wearing any head guards such as helmets, caps, turbans and hats inside the temple premises.
Committing any act of violence or harshness in the temple premises.
Spit or be a nuisance inside the temple premises.
Mobile phones and other electronic gadgets/equipments
Goods and Service Tax:
GST will be extra and will be charged @ 5% on the mentioned package cost.
Validity:
The mentioned price is valid only till end of April 2021.
Payment Terms:
The payment terms are as follows:
50% advance payment of the total package cost at the time of booking
Balance 50% payment along with GST should be paid within 7 days before the departure
Booking Policy
Online Booking: You can purchase our services from our sales outlets at Bangalore or Chennai, or you can book your tour/services / payment online through our website. Our website provides the facility making online booking of tours and services. After confirmation in written from us via Email or by in writing.
Booking Amount
For the services contracted, a minimum deposit of 30% of the total cost is to be paid by you to Ravel Roads. The advance is required to hold the booking on confirmed basis.
Balance Payment
The full balance payment is to be paid 10 days prior to the date of start of services. Any booking made within 10 working days of the date of services would be considered as a late booking and for same the full and final payment is required to be made at the time of booking itself.
Note: Apart from above, in case of bookings for special train journeys, hotel or resort bookings during the peak season (Christ-mas, New Year) full payment is required to be made at the time of booking itself.
Payments: All payments are to be paid in behalf of Ravel Roads.
How to Pay:
Domestic payments
1. By Cash / Cheque / Demand Draft
2. By Electronic money transfer (RTGS & NEFT)
3. By Debit Card, Credit Card, UPI, net banking.
International payments
1. By Bank transfer to our bank (Bank Details)
2. By Online Payment Gateway through Razor Pay.
3. By Debit Card, Credit Card
In case of payment through credit card, the bank charges (3% extra) – would be levied over and above the total amount.
Note:
1. All payments should be free and clear of any withholding tax and deduction.
2. Bank charges, if any, for remittance (by remitting bank or by intermediary bank) would be strictly borne by payer.
---
Cancellation / No show / Early Departure Policy:
In case of cancellation of tour or travel services due to any reason, you are requested Please inform us in writing or by Email. Cancellation charges would be effective from the date we receive letter in writing and cancellation charges would be as follows:
Cancellation charges for any mode of transport ticket are applicable as per the rules of the concerned authority.
Air ticket issued on special fare are non-refundable and the guest shall bear cancellation charges.
Group Tours
1. If the reservation is cancelled 30 days prior to the date of arrival – 90% may be refunded (except the transaction charges).
2. If the reservation is cancelled 15 days prior to the date of arrival – 50% may be refunded (except the transaction charges) .
3. If the reservation is cancelled 07 days prior to the date of arrival – 25% may be refunded (except the transaction charges).
If the cancellation is any later than the above stated period or in case of 'No Show'- No Refund.
No refund or any changes will be accepted at last minute for tour starting or after starting or middle of the tour.
Individual Tours (FIT Tours)
Cancellation policy of Individual tours is subject to changes. It depends upon the cancellation policy of the respective hotels and other service operators your tour is associated with. Different hotels and service operators have different cancellation policies which we are required to abide by. In the unfortunate event of cancellation of trip by guests, we would charge 10% of total booking amount as processing charges +the charges levied by the corresponding service providers.
Please note:
The itinerary may have changed. The products and services displayed may have changed. The photos of meals/sightseeing are for reference and may differ from the actual meals/sights. Distance between places and temperatures are approximate and can change depending on travel, road conditions and climatic changes.
Itinerary may change at any time
we reserve the right to alter, amend, change or modify the tour package and itineraries before or during the tour. We will make reasonable efforts to notify you promptly of such changes as and when they are made.
Such changes may be necessitated due to factors beyond our control such as Force Majeure events, strikes, fairs, festivals, sport events, weather conditions, traffic problems, overbooking of hotels/flights, cancellation / re-routing of flights or railway, closure of / restricted entry at a place of sightseeing.
Generally, we try to avoid dates when big Fairs, Exhibitions and other events are held in certain cities as hotels are fully booked several years ahead.
If you have to travel on such dates, you may have to stay in alternate hotels or hotels in other cities.
We will make reasonable efforts to keep the overall package of services unchanged. However,
We shall not be liable to refund any amount or pay any compensation on account of any change in itinerary.