South Vietnam Tour Package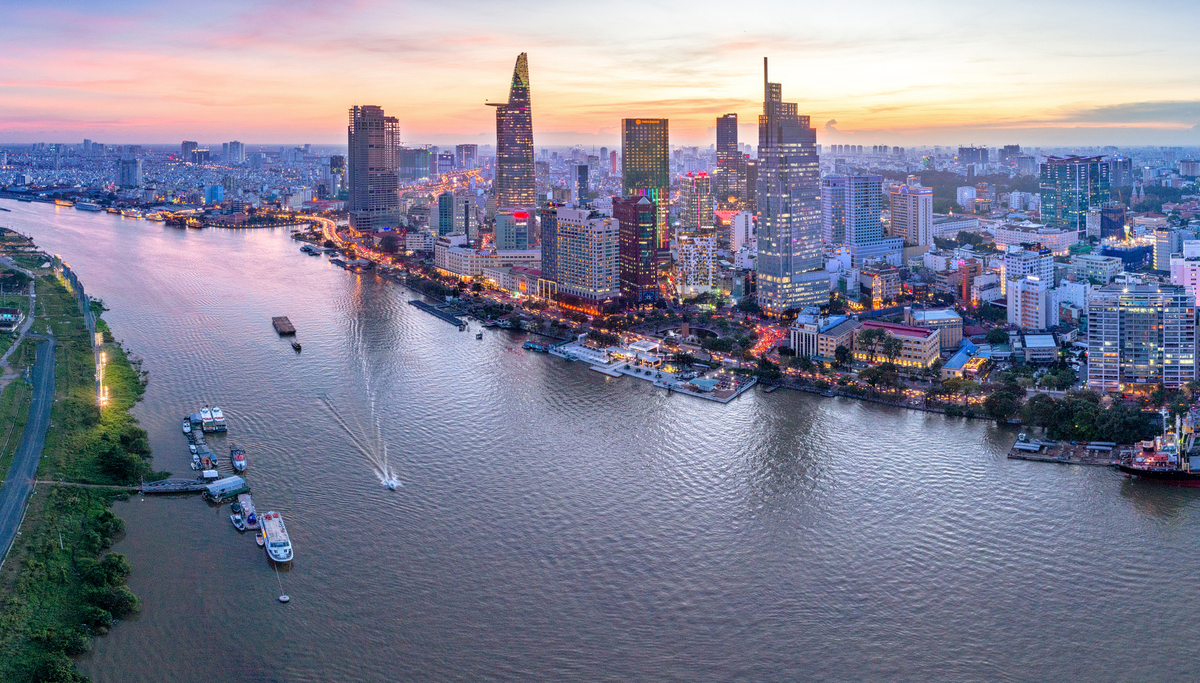 Day 01 : Set foot in Ho Chi Minh City, check in and rest
After you have arrived in Ho Chi Minh City, we will pick you up in airport and take you back to the hotel that has been booked for you to rearrange belongings, rest and prepare for the next fun day.
We will take you to the restaurant to have dinner and disseminate the schedule of the following days for you. After that, you can work freely and relax to start the short day trip from the morning of the next morning.
You will stay tonight in Ho Chi Minh City
Day 02 : VUNG TAU 1 DAY
07:45AM Departing from your hotel. Arriving in Vung Tau at around 10:00AM and visiting the Jesus Christ Statue. Walking up the 847 stairs and meeting the 32 meter-tall (105 feet) Statue of Jesus, considered one of the tallest statues of Jesus Christ in Asia. Its outstretched arms span a little over 18.4 meters. Originally started in 1972, but the construction was only completed in 1993. The adventurous travelers are welcome to climb up to the top of inside Christ arms and enjoy the breathtaking panoramic view of Vung Tau city
11:30AM Assembling at the foot of the mountain then, proceeding for lunch at a restaurant that serves authentic Vietnamese dishes.
After lunch, visiting Nghinh Phong cape, it is literally translated as Cape of Welcoming Breeze. The cape is the cliff of Vung Tau and has unobstructed views of Vung Tau City as well as the East Sea.
Free time at Thuy Van beach (Back beach) – one of the nicest beaches in Viet Nam with the shore runs for almost 10km full of fine sand and white waves.
04:00PM Returning back to Saigon and on the way, taking a short break at Long Thanh Dairy rest stop.
Finishing at TheSinhTourist office at around 06:30PM (ETA).
You will stay tonight in Ho Chi Minh City
Day 03 : Explore the Cu Chi tunnel and Cao Dai temple
On the third day, you will discover Cu Chi Tunnel and Cao Dai Temple. These are two extremely famous locations of southern Vietnam. You have two types of vehicles to choose from when moving to the Cu Chi tunnel and Cao Dai temple. You can take the bus with our tour guide or travel by private vehicle. We will go to Cao Dai Pagoda in the morning. Cao Dai Pagoda is a sacred temple of Cao Dai religion. This is a temple with a combination of Buddhism and Christianity. So, this will be quite a new place that you can visit and learn. You will have lunch at a delicious Vietnamese food restaurant. After that, you will continue to explore the Cu Chi tunnel in the afternoon.
Cu Chi Tunnel is more than 200 km long and is the longest tunnel recognized by the Asian record. In the past, this was considered one of Vietnam's important bases during the war. You will feel extremely excited and curious about the ghost fighting maps in this Cu Chi tunnel. You can visit and take photos comfortably until late afternoon. We will return to the city center and have dinner before returning to the hotel to rest.
You will stay tonight in Ho Chi Minh City
Day 04 : Visit Mekong Delta
After 3 days of the Southern Vietnam trip, you will continue to experience the Mekong Delta on the 4 th day of the trip. In the 4 th morning, there will be a bus to pick you up at the hotel and take you to Ben Tre. You will be traveling through a branch of the Mekong River by boat along the Ham Luong River. Going through here, you not only see the majestic scenery but also see the exchange of goods, the change between different economies here. In addition to the eye-catching scenery, the people and the bustle in here are also one of the features that you cannot ignore.
You should stop at Cai Be market before returning to the hotel and arrange your belongings after your trip. It is one of the largest and busiest floating markets in the Mekong Delta. Cai Be floating market will be your final destination during the trip. Tourist boats will take you around so you can see the locals selling and buying their products. Because it is a wholesale market, Cai Be floating market is a place where big yachts bring a variety of local fruits, vegetables and food to the Mekong Delta to sell to local buyers from small boats. These buyers will sail to distant villages to sell to each family or company.
After going to the market, we will take you into the villages to visit ornamental plants and gardens. So it was the fourth day of the 5-day trip in southern Vietnam.
Day 05 : Ho Chi Minh Full Day City Tour (BLX)
Get up-close looks at a colonial-era cathedral, send a postcard from inside a historic post office, and explore immersive exhibits at a war museum. Weave through vendors in Ho Chi Minh City's Chinatown, check out the graceful lines of ancient pagodas, and bargain for souvenirs at a bustling market.
Start your private, full-day excursion at your hotel, where you guide picks you up in comfortable transportation bound for the red bricks of the Notre Dame Cathedral. Listen as your guide explains how this 19th-century church was constructed using materials only from France and snap a few photos of the immense towers that flank its elegant edifice. Nearby, scope out the Gothic and Renaiisance architectural styles at play on the Saigon Central Post Office.
Dive into the past with a walk through the War Remnants Museum's thought-provoking displays, see the frozen-in-time government rooms at the Reunification Palace, and then hop back in your ride for the quick drive to Chinatown.
Meander through lantern-lined streets, look for souvenirs in quiet tea shops, and swing by Quan Am Pagoda and Thien Hau Temple to admire their colorful and elaborate facades. Pick up lunch at a locally loved restaurant and then wind your day to a close, winding through the vocal vendors at Ben Thanh Market, where you can pick up a few last-minute gifts before heading back to your hotel.
Day 06 : Prepare and return after the trip
Free and easy today. You can finish your all last-minute shopping today if you want. You may go around if you want, till the time you want to be transferred to the international Airport.
End of services!
Cost Includes :
1. Accommodation in a double or twin room with daily breakfast
2. Tour price for 1pax travelling based on single room already
3. Round trip airport transfer by private transportation without guide
4. Meals at local restaurant (Vietnamese/Indian wherever possible)
5. Entrance fees for sightseeing with English Guide (Group Tour)
6. Boat for sightseeing in Ha Long & Ninh Binh
7. Mineral water is available as complementary
Cost Excludes :
1. Tips for hotel staff, restaurant staff, boat people, etc.
2. International flights not included
3. Meals, if not specified in the itinerary
4. Tipping for hotel staff, restaurant staff, boat people, trishaw men etc.
5. Gratuities for guides and drivers
6. Personal expenses, such as laundry, telephone, drinks, etc...
7. All other services not specified in the itinerary
8. Travel insurance (we highly recommend that you purchase adequate insurance).
9. Surcharge for Tet Lunar New year holidays, Xmas and New year's Eve
10. Tipping for guide and driver: USD 4/ Pax/ day
11. Visa
Visa to Vietnam:
Visitors can get visa on arrival.
Visa on arrival: You will get Vietnam visa when you arrive at the international airport of Vietnam with visa letter that is processed by us and offer free for your group. Please advise if your customers chose this option.
Otherwise we can help you do to E-visa through visa agency USD 25/one person (net price, no commission for us), they sell USD45/one person. Please see their website: https://www.visa4vietnam.com/articles/e-visa/
Cambodia Visa stamp fee: 30$ (Passport valid more than 6 months, enough space for visa stamp (2 free spaces), 1 passport photo (4X6), cash 30$)
Hotels: 3 Stars: OR SIMILAR
Booking Policy
Online Booking: You can purchase our services from our sales outlets at Bangalore or Chennai, or you can book your tour/services / payment online through our website. Our website provides the facility making online booking of tours and services. After confirmation in written from us via Email or by in writing.
Booking Amount
For the services contracted, a minimum deposit of 30% of the total cost is to be paid by you to Ravel Roads. The advance is required to hold the booking on confirmed basis.
Balance Payment
The full balance payment is to be paid 10 days prior to the date of start of services. Any booking made within 10 working days of the date of services would be considered as a late booking and for same the full and final payment is required to be made at the time of booking itself.
Note: Apart from above, in case of bookings for special train journeys, hotel or resort bookings during the peak season (Christ-mas, New Year) full payment is required to be made at the time of booking itself.
Payments: All payments are to be paid in behalf of Ravel Roads.
How to Pay:
Domestic payments
1. By Cash / Cheque / Demand Draft
2. By Electronic money transfer (RTGS & NEFT)
3. By Debit Card, Credit Card, UPI, net banking.
International payments
1. By Bank transfer to our bank (Bank Details)
2. By Online Payment Gateway through Razor Pay.
3. By Debit Card, Credit Card
In case of payment through credit card, the bank charges (3% extra) – would be levied over and above the total amount.
Note:
1. All payments should be free and clear of any withholding tax and deduction.
2. Bank charges, if any, for remittance (by remitting bank or by intermediary bank) would be strictly borne by payer.
---
Cancellation / No show / Early Departure Policy:
In case of cancellation of tour or travel services due to any reason, you are requested Please inform us in writing or by Email. Cancellation charges would be effective from the date we receive letter in writing and cancellation charges would be as follows:
Cancellation charges for any mode of transport ticket are applicable as per the rules of the concerned authority.
Air ticket issued on special fare are non-refundable and the guest shall bear cancellation charges.
Group Tours
1. If the reservation is cancelled 30 days prior to the date of arrival – 90% may be refunded (except the transaction charges).
2. If the reservation is cancelled 15 days prior to the date of arrival – 50% may be refunded (except the transaction charges) .
3. If the reservation is cancelled 07 days prior to the date of arrival – 25% may be refunded (except the transaction charges).
If the cancellation is any later than the above stated period or in case of 'No Show'- No Refund.
No refund or any changes will be accepted at last minute for tour starting or after starting or middle of the tour.
Individual Tours (FIT Tours)
Cancellation policy of Individual tours is subject to changes. It depends upon the cancellation policy of the respective hotels and other service operators your tour is associated with. Different hotels and service operators have different cancellation policies which we are required to abide by. In the unfortunate event of cancellation of trip by guests, we would charge 10% of total booking amount as processing charges +the charges levied by the corresponding service providers.
Please note:
The itinerary may have changed. The products and services displayed may have changed. The photos of meals/sightseeing are for reference and may differ from the actual meals/sights. Distance between places and temperatures are approximate and can change depending on travel, road conditions and climatic changes.
Itinerary may change at any time
we reserve the right to alter, amend, change or modify the tour package and itineraries before or during the tour. We will make reasonable efforts to notify you promptly of such changes as and when they are made.
Such changes may be necessitated due to factors beyond our control such as Force Majeure events, strikes, fairs, festivals, sport events, weather conditions, traffic problems, overbooking of hotels/flights, cancellation / re-routing of flights or railway, closure of / restricted entry at a place of sightseeing.
Generally, we try to avoid dates when big Fairs, Exhibitions and other events are held in certain cities as hotels are fully booked several years ahead.
If you have to travel on such dates, you may have to stay in alternate hotels or hotels in other cities.
We will make reasonable efforts to keep the overall package of services unchanged. However,
We shall not be liable to refund any amount or pay any compensation on account of any change in itinerary.
Accommodation
Accommodation in Kailash Manasarovar Overland Tour:- Accommodation of Kathmandu is on 3/4 star category hotel on twin sharing and accommodation in Kailash region is on group sharing local Guesthouses/ Mud houses. Please do not expect more facilitated accommodation in Kailash. Toilets are out of the room and it is common. More place like Manasarovar, Derapuk and in Juthulpuk is an open toilet. Nowadays people can choose deluxe guest houses in some of the route in Kailash Mansarovar. Deluxe guest houses have built-in Nyalam, Saga and In Darchen.
Accommodation of Central Tibet, Shigatse, Lhatse, Gyantse and in Lhasa is your choice to choose either Basic, Standard or Deluxe hotels. In Lhasa deluxe hotels or 5-star category are available.
Accommodation in Everest base Camp Route and the Guge Kingdom are all basic guest houses and Hotels.
Extra Expenses
We have mentioned all the extra expenses of your trip on every trip details. Please be sure with it before your trip confirmation with us.
Normally
* Personal Helper and Horse * Emergency rescue in case of need *
Booking Policy
1. Application should be submitted at least 30 days before the provisional date of departure.
2. Minimum of 6 months valid Passport scan copy by mail or passport copy by courier should summit when the booking is made
3. Upon the confirmation, 25% deposit amount per person (INR 25,000) is required which is nonrefundable.
4. In the case of Lhasa Kailash tour deposit amount is USD 1000 or equvalent currency.
5. Our company trip booking form with your signature as per our term and condition
6. All the clients need to carry ID Proof, (Voter ID Proof) OR passport original while traveling by air.
7. The itinerary can be changed without notice due to unavoidable circumstance beyond our control such as political unrest, Natural calamities, changes in the itinerary by the Chinese authorities, etc.
Cancellation Policy:
In any circumstances, if any customers cannot participate for the tour, the cancellation charge will be as follows:
1. 30 Days Before Tour Date 50 % of Tour Cost
2. 20 Days Before Tour Date 75% of Tour Cost
3. 15 Days Before Tour Date 100% of Tour Cost
ADVANCE AMOUNT WILL NOT BE REFUNDABLE
All disputes pertaining to the tour and any claim arising there under shall be subject to the Court of competent jurisdiction at Bangalore only.
Itinerary / Tour Cost / Date / Terms And Conditions / Cancellation Policy Are Subject To Change
Equipment List
Down Sleeping Bag
Group joining trip to Mt. Kailash do not need any sleeping bag. All your accommodation in guest house will provide warm blankets. Other than Kailash Manasarovar tour, you night need warm/down sleeping bag. Touch Kailash Travel can provide you down sleeping bag without paying and it is returnable after the trip.
Down Jacket
Touch Kailash Travel can provide warm jacket without paying for your trip which is returnable after the trip.
Doffel bag and hand carry bag
Touch Kailashg Travels and Tours provide you duffel bag to put your goods and hand carry bag too. You can leave your suitcase or any of your bag in kathmandu hotel carried from your home.
Warm head cover Cap
Touch Kailash Travel provide you warm and head cover cap for your trip
Comfirtable warm walking shoes, Extra one pair
Water bottle at least for 2 liter including Thormas for keeping water hot You have to drink at least 3 litter water for a day and your team will provide you drinking water at every meal time. Hot water will be provided morning and evening only. so you have to have your thormas to keep hot water during day time.
Rain wear (Umbrella or Raincoat)
Woollen/thermal long underwear
3 pairs of thick and tights warm socks
warm light gloves
Wind and water prooft trouser and Jacket
Up and down warm thormal