Kailash Doordarshan Tour REGISTER NOW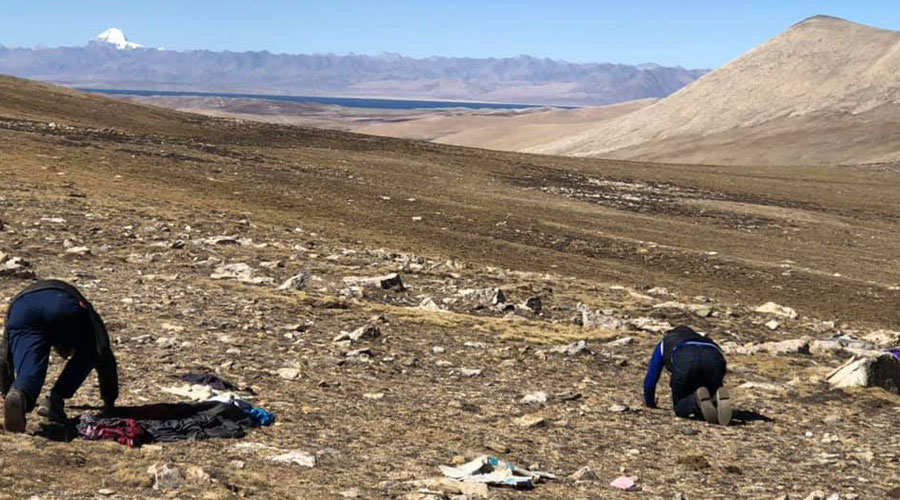 The Hindus Mythology, Lord Shiva spends his most of the time on the top of the holy Mount Kailash, practicing Yogic austerities, joy and love with his divine consort Parbati (Mother of Mythology). The Lake Mansarovar and the holy Mount Kailash are the SOUL of all AUM followers in the world." Conventional wisdom says a single circuit of Mt. Kailash wipes out the sins of a lifetime, 108 Parikramas guarantees enlightenment. A ritual bath in the sacred Mansarovar Lake delivers pilgrim to Brahma's paradise and a drop drink of its water relinquishes the sins of hundreds of lifetimes."
Lapcha la pass (4550m) is located in Nepal side in the border of the Manasarovar to Tibet which is just 7km away to the lake shore.
Highlights : Kathmandu – Pashupatinath – Simikot- Lapcha la pass (View of Kailash & Manasarovar) - Muktinath
March 9 th 2021: Day 01 :
Pick up from Lucknow and drive to Nepalgunj, transfer to Hotel.
March 10 th 2021: Day 02 :
Morning fly to Simikot (3000m) afternoon visit Shiva Mandir.
March 11 th 2021: Day 03 :
Flight by Helicopter 30 min to Lapcha la pass view point of Manasarovar and Kailash Nandi parvat , Athapad and puja and ceremony for about 2 – 3 hrs and flight back to Simikot
March 12 th 2021: Day 04 :
Fly to Nepalgunj and DRIVE TO LUCKNOW
Option 1
March 12 th 2021: Day 04 :
Fly to Nepalgunj and continue fly to Kathmandu. Night halt at Kathmandu
March 13 th 2021: Day 05 : KATHMANDU SIGHTSEEING
After Breakfast – Visit Pashupatinath Temple. Departure from Kathmandu to Bangalore/Chennai
Optional: Everest Mountain Flight at 06:30AM – INR 9500 per person including airport transfer.
Option 2
March 13 th 2021: Day 05 : KATHMANDU SIGHTSEEING (HALF DAY) AND DRIVE TO POKHARA (EN-ROUTE MANAKAMANA CABLE CAR) – OVERNIGHT IN POKHARA
After Breakfast – Visit Pashupatinath Temple.
10:00AM – Visit to Swayambhunath Stupa (spend 1 hr)
11:00AM – Drive to Pokhara (200 km – 6 hrs). En-route you can visit Manakamana Temple through Cable Car – Extra Cost of Cable Car ticket is INR 500 per person paid directly at the station. This ride gives breathtaking views of Hills, Mountains, forests, little farming villages and the ride through the clouds.
Optional: Everest Mountain Flight at 06:30AM – INR 9500 per person including airport transfer.
March 14 th 2021: Day 06 : FLY TO JOMSOM (2700 M) & DRIVE TO MUKTINATH TEMPLE (3800 M) – OVERNIGHT IN JOMSOM
Early Morning – Transfer to Airport & fly to Jomsom – 25 minutes.
Arrival at Jomsom Airport and walk to hotel – 5 minutes from Airport.
– After short break – walk to jeep stand (10-15mins) and drive to Muktinath (20 kms – 2-3 hrs). On the way you can enjoy see the scenery of nature beauty places, George of Gandaki river, Monastery & Kagbeni.
– Arrival at Ranipauwa (3710 m) and walk to Muktinath temple (40 min) where you will have holy bath on 108 waterspouts name of "Muktidhara" and in front of temple there is 2 kunda known as Muktikunda. After darshan, walk to Jwalamai Temple – continuously burning flame and walk back to Ranipauwa.
Drive back to Jomsom by Jeep (2-3 hrs) and walk back to hotel.
March 15 th 2021: Day 07 : FLY BACK TO POKHARA & POKHARA SIGHTSEEING (FULL DAY) – OVERNIGHT IN POKHARA
Early Morning: Transfer to Jomsom Airport for flight to Pokhara.
After short break – we will go for Pokhara sightseeing where you will visit following: Bindhyabasini Temple, Davis Fall, Seti River Gorge, Gupteshwor Cave, Barahi Temple, Fewa Lake.
March 16 th 2021: Day 08 : FLY BACK TO – KATHMANDU
Trip ends at Kathmandu and departure to Bangalore / Chennai
Cost includes:
INCLUDED
1. Airports pick up and drop services.
2. Double sharing full board basis 4-star hotel in Nepalgunj as per itinerary in Nepalgunj
3. Scheduled flight Nepalgunj – Simikot – Nepalgunj
4. Charter helicopter flight 30min share by 5 person Simikot – Lapcha la - Simikot
5. Double sharing hotel in Nepalgunj and 3 or 4 pax in Simikot and Nepal side.
6. Breakfast, Lunch and Dinner as per itinerary (B, L, D)
7. Nepali Team Leader and Supporting Sherpa Team and Medical Insurance of staffs.
8. Veg. Indian meals during the trip
9. Duffel Bag (a large bag to keep the yatris luggage for the trip) Gore-Tex Jacket (returnable-trip)
10. Upper Humla permit fee for client and Helicopter landing charge
NOT INCLUDED
1. All beverages during trip and in Kathmandu, Nepalgunj and Simikot.
2. Extra rooms bill due to flight delays due to weather conditions
3. Insurance of clients and evacuation cost
4. Domestic excess baggage charges and airport taxes.
5. Tips for supporting staff
BOOKING TERMS
Trip has to be booked before 2 weeks.
Minimum 6 months' valid date passport or voters Id is required.
14 days prior to the tour departure date, 100% of the total cost should reach Ravel Roads with passport copy of the front and last page.
Our company trip booking form with your signature as per our term and condition
Domestic flight cancellation due to bad weather etc. Any extra cost incurred thereof shall be borne by the clients on the spot.
CANCELLATION POLICY
All notice of cancellation must be sent to our office in written.
Verbal cancellations will not be entertained.
More than 7 days prior to entry date: INR 6000 per person.
BASIC INFORMATION ABOUT KAILASH YATRA:
Start Point: Kathmandu / Nepalgunj / Lucknow as per your booking
End Point: Kathmandu / Nepalgunj / Lucknow as per your booking
Max Altitude: 4500m
Best time to visit: April to March
Temperature: Max 20c to Min -10c
Usefull Info :
Do not bring any books, magazine, pictures about Tibet, Buddhism or about any Lama's. Custom of China won't allow entering with those kinds materials.
Fresh vegetables, fresh fruits, liquids like Ghee, Oils are not allow entering from Chinese custom at Kodari.
Do not take any pictures and videos in Chinese customs, Army and police station
Make quei in every customs and in checking post as per your visa list number (your guide will give you instruction from first day)
Take cooperative position from every Nepali and Tibetan staffs and in Immigration sites
Do not forse going forward yourself, if you feel hard, stop and take help from our team. Listen our guide and take decision
Accommodation
Accommodation in Kailash Manasarovar Overland Tour:- Accommodation of Kathmandu is on 3/4 star category hotel on twin sharing and accommodation in Kailash region is on group sharing local Guesthouses/ Mud houses. Please do not expect more facilitated accommodation in Kailash. Toilets are out of the room and it is common. More place like Manasarovar, Derapuk and in Juthulpuk is an open toilet. Nowadays people can choose deluxe guest houses in some of the route in Kailash Mansarovar. Deluxe guest houses have built-in Nyalam, Saga and In Darchen.
Accommodation of Central Tibet, Shigatse, Lhatse, Gyantse and in Lhasa is your choice to choose either Basic, Standard or Deluxe hotels. In Lhasa deluxe hotels or 5-star category are available.
Accommodation in Everest base Camp Route and the Guge Kingdom are all basic guest houses and Hotels.
Extra Expenses
We have mentioned all the extra expenses of your trip on every trip details. Please be sure with it before your trip confirmation with us.
Normally
* Personal Helper and Horse * Emergency rescue in case of need *
Booking Policy
1. Application should be submitted at least 30 days before the provisional date of departure.
2. Minimum of 6 months valid Passport scan copy by mail or passport copy by courier should summit when the booking is made
3. Upon the confirmation, 25% deposit amount per person (INR 25,000) is required which is nonrefundable.
4. In the case of Lhasa Kailash tour deposit amount is USD 1000 or equvalent currency.
5. Our company trip booking form with your signature as per our term and condition
6. All the clients need to carry ID Proof, (Voter ID Proof) OR passport original while traveling by air.
7. The itinerary can be changed without notice due to unavoidable circumstance beyond our control such as political unrest, Natural calamities, changes in the itinerary by the Chinese authorities, etc.
Cancellation Policy:
In any circumstances, if any customers cannot participate for the tour, the cancellation charge will be as follows:
1. 30 Days Before Tour Date 50 % of Tour Cost
2. 20 Days Before Tour Date 75% of Tour Cost
3. 15 Days Before Tour Date 100% of Tour Cost
ADVANCE AMOUNT WILL NOT BE REFUNDABLE
All disputes pertaining to the tour and any claim arising there under shall be subject to the Court of competent jurisdiction at Bangalore only.
Itinerary / Tour Cost / Date / Terms And Conditions / Cancellation Policy Are Subject To Change
Equipment List
Down Sleeping Bag
Group joining trip to Mt. Kailash do not need any sleeping bag. All your accommodation in guest house will provide warm blankets. Other than Kailash Manasarovar tour, you night need warm/down sleeping bag. Touch Kailash Travel can provide you down sleeping bag without paying and it is returnable after the trip.
Down Jacket
Touch Kailash Travel can provide warm jacket without paying for your trip which is returnable after the trip.
Doffel bag and hand carry bag
Touch Kailashg Travels and Tours provide you duffel bag to put your goods and hand carry bag too. You can leave your suitcase or any of your bag in kathmandu hotel carried from your home.
Warm head cover Cap
Touch Kailash Travel provide you warm and head cover cap for your trip
Comfirtable warm walking shoes, Extra one pair
Water bottle at least for 2 liter including Thormas for keeping water hot You have to drink at least 3 litter water for a day and your team will provide you drinking water at every meal time. Hot water will be provided morning and evening only. so you have to have your thormas to keep hot water during day time.
Rain wear (Umbrella or Raincoat)
Woollen/thermal long underwear
3 pairs of thick and tights warm socks
warm light gloves
Wind and water prooft trouser and Jacket
Up and down warm thormal